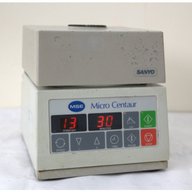 MSE MicroCentaur
MSB010.CX2.5
MSE MicroCentaur
Details
The Micro Centaur is a bench top machine designed specifically for centrifuging small capacity tubes up to 2ml. Its small size and weight make it ideal for transporting by hand, and also using in laboratories where space is at a premium. With its variable speed and space-saving dimensions, the Micro Centaur is ideal for hospital and research laboratories, and for applications such as amino acid analyses, enzymatic, biochemical and immuno assays, and for the separation of physiological fluids. With its innovative Top Mounted Rotor, the Micro Centaur provides unsurpassed access for loading, unloading or cleaning. This will be most appreciated when working with toxic or Bio-Hazardous materials. If spilled, these materials will not enter the centrifuge but remain in the rotor, which is removed easily for autoclaving.
All reconditioned machines are subject to availability
Features
Refrigeration
Typical capacities
12 x Microlitre 0.2-2ml
Availability
Available as Reconditioned
Please call our sales office or request a quote online for pricing/discount information.