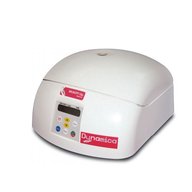 VELOCITY 13u Micro-Centrifuge
V13U-2A
VELOCITY 13u Micro-Centrifuge
Details
The Velocity 13u High Speed Microcentrifuge is designed to accelerate your laboratory works by providing excellent and reliable performance. The Velocity 13µ series is compact and easy to use.
Features & Characteristics
• Maximum speed 13,500rpm (12,300 xg)
• Choices of rotors for 12 x 1.5/2.0ml tubes and 32 PCR
tubes or strips
• Compact design
• Rapid acceleration (≤12 sec) and deceleration (≤16 sec)
• Autoclavable rotor
• Safe operation with lid-lock function
• User-friendly control panel with LCD display
Features
Refrigeration
Availability
Available as New
Please call our sales office or request a quote online for pricing/discount information.