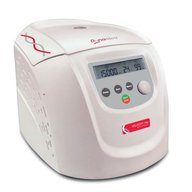 VELOCITY 15uR Refrigerated Micro-Centrifuge
V15UR
VELOCITY 15u Micro-Centrifuge
Details
The Velocity 15µ / 15µR High Speed Microcentrifuge are designed to accelerate your laboratory works by providing excellent and reliable performance. The Velocity 15µ series are compact and easy to use.
Features & Characteristics
• Maximum speed 15,000rpm (21,380 xg)
• Choices of rotors for 24 x 0.2/0.5/1.5/2.0ml tubes, 18 x 5ml tubes, 36 x 0.5ml tubes
and 4x 8-strip PCR tubes
• Powerful refrigeration for model Velocity 15µR
• Autoclavable Bio-safe rotors
• Advanced air-cooling technology to lower rotor temperature for model Velocity 15µ
• Automatic lid release after run
• Dual door interlock safety design
• User-friendly control panel with large LCD display
Features
Refrigeration
Availability
Available as New
Please call our sales office or request a quote online for pricing/discount information.