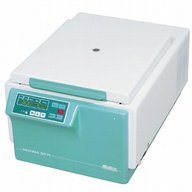 Hettich Rotina 35R
Hettich Rotina 35R refrigerated tabletop centrifuge
This model has been upgraded to the Rotina 380R and is subsequently no longer available as new
Details
The high-performance bench-top centrifuges Rotina 35 and Rotina 35R impress by state-of-the-art technology, large capacity, extremely easy handling and exceptionally smooth and quiet running. Accommodating a multitude of tubes used in modern laboratory routine the Rotina 35 type centrifuges enable a wide range of applications.
Developed for professional users these innovative centrifuges are mainly used in the following fields of application: diagnostics, cell culture, genetic research and microbiology.
All reconditioned machines are subject to availability
Features
Refrigeration
Typical capacities
48 x Blood tube 4-7mm (13mm)
28 x Blood tube 7-10ml (16mm)
24 x Conical 15ml
10 x Conical 50ml
Availability
Available as Reconditioned
Please call our sales office or request a quote online for pricing/discount information.