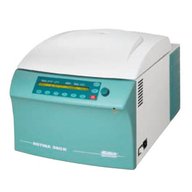 Hettich Rotina 38R
C1707
The high-performance bench-top centrifuges Rotina 38 and Rotina 38R impress by state-of-the-art technology, large capacity, extremely easy handling and exceptionally smooth and quiet running.
This model has been upgraded to the Rotina 380R and is subsequently no longer available as new
Details
Accommodating a multitude of tubes used in modern laboratory routine the Rotina 38 type centrifuges enable a wide range of applications.
Developed for professional users these innovative centrifuges are mainly used in the following fields of application: diagnostics, cell culture, genetic research and microbiology.
Features
Refrigeration
Typical capacities
12 x Microlitre 0.2-2ml
28 x Blood tube 4-7mm (13mm)
28 x Blood tube 7-10ml (16mm)
24 x Conical 15ml
10 x Conical 50ml
Availability
Not currently available
Accessories for Hettich Rotina 38R
| | |
| --- | --- |
| 4 place swing out rotor | |
| 100 ml metal bucket | |
| Insert for 7 tubes 14 x 100 mm | |
| Insert for 36 tubes 6 x 45 mm | |
| Insert for 14 tubes 10 x 60 mm | |
| Insert for 12 tubes 12 x 82 mm | |
| Insert for 2 x 25ml tubes | |
| Insert for 1 x 50 ml tube 34 x 100 mm | |
| Insert for 1 x 100 ml tube 44 x 100 mm | |
| Insert for 7 blood collection tubes 12 x 81-105 mm | |
| Insert for 4 blood collection tubes 16 x 57-92 mm | |
| Insert for 7 blood collection tubes 16 x 81 mm | |
| Insert for 1 x 50 ml Falcon tube | |
| U' Well Microtitration plate (pack of 100) | |
| F' Well Microtitration plate (pack of 50) | |
| V' Well Microtitration plate (pack of 100) | |
| Lid for Microtitre plates (pack of 50) | |
| Insert for 9 microtubes | |
| Insert for skirted 50 ml Falcon tubes | |
| | |
| DJB bespoke adapters manufactured to suit your requirements ideal for specialist tubes | |
| Rectangular sealable metal bucket | |
| Insert for 12 tubes 10 x 60 mm | |
| Insert for 30 tubes 6 x 45 mm | |
| Insert for 8 blood collection tubes 13 x 75-100 mm | |
| Insert for 12 blood collection tubes 11 x 66 mm | |
| Insert for 12 blood collection tubes 11 x 92 mm | |
| Insert for 6 blood collection tubes 16 x 100 mm | |
| Insert for 2 tubes 24 x 100 mm | |
| Insert for 1 tubes 34 x 100 mm | |
| Insert for 6 tubes 17 x 100 mm | |
| Insert for 5 blood collection tubes 17 x 75-92 mm | |
| Insert for 1 x 15ml Falcon tube | |
| Insert for 1 x 50 ml Falcon tube | |
| 15ml Graduated centrifuge with screw cap (pack of 500) | |
| Insert for 9 x 1.5-2.2 ml microtubes | |
| Microtube 1.5ml' flat top' (pack of 1000) | |
| Microtube 1.5ml yellow (pack of 5000) | |
| Microtube 1.5ml blue (pack of 5000) | |
| Microtube 1.5ml green (pack of 5000) | |
| Microtube 1.5ml pink (pack of 5000) | |
| Microtube 1.5ml Twist Lock (pack of 5000) | |
| Microtube 2.0ml Polypropylene (pack of 500) | |
| Microtube 1.5m threaded and not skirted (pack of 500) | |
| Cap with integral O ring for above (pack of 500) | |
| Insert for 5 blood collection tubes 15 x 75-92 mm | |
| Insert for 12 blood collection tubes 8 x 66 mm | |
| Insert for 2 x 25/30ml conical Falcon | |
| 30ml Universal tubes, no label - polystyrene (pack of 400) | |
| 30ml Universal tubes, no label - Polypropylene (pack of 400) | |
| 30ml Universal tubes, printed label - Polypropylene (pack of 400) | |
| 30ml Universal tubes, plain label - Polystyrene (pack of 400) | |
| 30ml Universal tubes, with spoon, no label - Polypropylene (pack 400) | |
| 30ml Universal tubes, with boric acid, no label - Polypropylene (pack of 400) | |
| 30 ml Universal, labelled - Polystyrene (pack of 400) | |
| Sealing Lid for bucket A1427 | |
| This part is now obsolete and has been replaced by ... | |
| Insert for 4 tubes 15-17 x 91-105 mm | |
| Rubber pad for 15 ml carriers | |
| Insert for 1 x 25 ml tube (inc. plastic Universals) | |
| Insert for 1 x 50 ml tube 34 x 100 mm | |
| Insert for 27 tubes 6 x 45 mm | |
| Insert for 9 tubes 10 x 52-60 mm | |
| Insert for 1 x 15 ml Falcon tube | |
| Insert for 4 tubes 16 x 75 / 100 | |
| Insert for 5 microtubes | |
| Insert for 1 x tube 25 x 110mm | |
| Insert for 5 tubes 13 x 75-105 mm | |
| Insert for 1 x 50 ml Falcon tube | |
| 50ml Conical Sterile Polypropylene Centrifuge Tube With Screw Cap (Pack of 20) | |
| Insert for 1 x 85 ml tube 38 x 101 mm | |
| Insert for 4 blood collection tubes 15 x 75-92 mm | |
| Insert for 1 tube 29 x 107 mm | |
| Insert for 1 tube 26 x 95 mm | |
| Insert for 1 x 50 ml Skirted Conical Tube | |
| Rubber pad for 100 ml tubes | |
| Rubber insert for chrome bath tubes 0534 | |
| Insert for 7 tubes 8 x 66 mm | |
| Insert for 1 x tube 25 x 90mm | |
| Insert for 1 x 12ml conical skirted tube | |
| This part is now obsolete and has been replaced by ... | |
| 4 place swing out rotor | |
| 250 ml sealable metal bucket | |
| Insert for 12 tubes 12 x 75 mm - 100mm | |
| Insert for 12 tubes 12 x 100 mm | |
| Insert for 8 x 4ml - 10ml blood collection tubes (diameter up to 17mm) | |
| Insert for 4 tubes 24 x 100 mm | |
| Insert for 1 tube 34 x 100 mm | |
| Insert for 1 tube 44 x 100 mm | |
| Insert for 1 tube 40 x 115 mm | |
| Insert for 1 x 250 ml glass tube | |
| Insert for 7 x 15 ml Falcon tubes | |
| Insert for 2 x 50 ml Falcon tubes | |
| Insert for 3 x 25ml conical tubes | |
| Insert for 2 x 50ml Falcons tubes | |
| Insert for 8 x 1ml - 5ml blood collection tubes (diameter up to 13mm) | |
| Insert for 1 x 250 ml bottle 62 x 135 mm | |
| Insert for 7 tubes 17 x 100 mm | |
| Sealing Lid for A5092 | |
| | |
| Metal bucket | |
| Insert for 40 x 1.5-2.2 ml microtubes | |
| Insert for 16 x 1.5-2.2 ml microtubes | |
| Insert for 20 blood collection tubes 8 x 66 mm | |
| | |
| | |
| Insert for 12 blood collection tubes 15 x 75 mm | |
| Insert for 12 blood collection tubes 15 x 92 mm | |
| Insert for 5 tubes 24 x 100 mm | |
| Insert for 2 tubes 34 x 100 mm | |
| Insert for 1 tube 40 x 115 mm | |
| Insert for 1 tube 44 x 100 mm | |
| Insert for 12 blood collection tubes 13 x 65-75 mm | |
| Insert for 11 blood collection tubes 16 x 92 mm | |
| Insert for 7 x 15 ml Falcon tubes | |
| Insert for 5 x 30ml conical tubes | |
| Insert for 2 x 50 ml Falcon tubes | |
| Double stage insert for cyto slide carriers | |
| Does not include the Angled chamber and Filter card | |
| | |
| Pack of 200 Filter cards for 1,2 and 4ml Cyto chambers. | |
| Filter cards for 1ml, 2ml and 4ml cyto chambers. | |
| | |
| | |
| | |
| Filter cards for 8ml cyto chamber. | |
| Filter cards for 8ml cyto chamber. | |
| | |
| Filter cards for 3 x 2ml cyto chamber. | |
| Filter cards for 3 x 2ml cyto chamber. | |
| | |
| Filter cards for 4 x 1ml cyto chamber. | |
| Filter cards for 4 x 1ml cyto chamber. | |
| | |
| Lid for bucket A5051 | |
| 6 place swing out rotor | |
| Plastic bucket for 2 x 20 ml tubes 21 x 100 mm | |
| Plastic bucket for 4 x 15 ml tubes 17 x 100 mm | |
| Plastic bucket for 5 x 9 ml tubes 14 x 100 mm | |
| Plastic bucket for 17 x 5 ml tubes 13 x 75 mm | |
| Plastic bucket for 10 tubes 8-14 x 66-100 mm | |
| Plastic pad for 8 ml tubes | |
| Plastic bucket for 7 tubes 13-17 x 75-120 mm | |
| Insert for 2 x 25 ml tubes 25 x 92-100 mm | |
| Insert for 1 x 50ml tube 34 x 100 mm | |
| Rectangular bucket | |
| Insert for 12 tubes 12 x 60 mm | |
| | |
| For bucket A1660 | |
| 10 place swing out rotor for Falcon tubes | |
| Insert for 15 ml Falcon tube | |
| 4 place swing out rotor | |
| Light metal bucket | |
| Insert for 4 x 15 ml Falcon tubes | |
| Insert for 2 x 50 ml Falcon tubes in bucket 1790 | |
| 4 place rotor for microtitre plates without carriers | |
| Swing out rotor for microtitre plates - without carriers A1753 | |
| Carrier for microtitre plates on rotor A1760 | |
| 8 Place swing-out rotor for use with buckets 1680 for cytology | |
| Angle Rotor, 6 Place | |
| Insert for 1 x 50 ml tube 29 x 105 mm (inc. 50 ml Oakridge) | |
| Insert for 1 x 30 ml tube 26 x 95 mm (inc. 30 ml Oakridge) | |
| Insert for 2 x 10 ml tubes 16 x 75mm | |
| Suspension 1 x 1.6 - 6 ml | |
| Suspension 1 x 4 - 10 ml | |
| Insert for 4 microtubes | |
| Insert for I tube 16-17 x 75-100 mm | |
| Insert for 1 x 50 ml Falcon tube | |
| Insert for 1 x 15 ml Falcon tube | |
| Insert for 1 x 75 ml tube 35 x 105 mm | |
| Adapter 1-place for 5 ml tubes, conical, fitting into rotors 1792, 4794 and 5615 | |
| 6 Place Angle Rotor | |