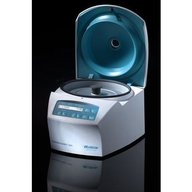 Haematokrit 200
C1801
STURDY DESIGN
The Haematocrit rotor is now included in this machine
This centrifuge is of outstanding design with high-quality components. These include a metal lid and a deep metal chamber which securely holds the rotor.
Details
Practical Functions
The rotor lid at the same time serves as an evaluation disc, enabling the haematocrit values to be read off without difficulty after sedimentation, without first having to remove the capillaries. This saves time and offers additional safety.
Maximum Safety
Its unique rotor design ensures safe centrifugation: Each capillary has its own chamber in the segmented haematocrit rotor and is cushioned by a holding tray at the outer rim. This provides optimum protection if the glass breaks. The sturdy housing and solid design ensure mechanical safety
Features
Refrigeration
Availability
New price
£2641.68
Manufacturer's list price. Please call our sales office for potential discounts that may apply.
Accessories for Haematokrit 200
| | |
| --- | --- |
| 24 Place Haematocrit Rotor | |
| Professional Flight Case for safe and easy transportation | |
2 accessories, of 6 including subaccessories Show all...