Customer Surveys and Feedback
At DJB Labcare Ltd we endeavour to provide our customers with the highest possible quality of service and are continually looking for ways to improve it.
As an ISO 9001:2008 accredited company we follow each service visit with a simple customer survey, they are asked to rate us on our performance.
This system is automated and web-based; the summary provided on this page is collated in real time.
Customer Satisfaction Survey (Service)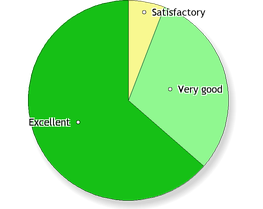 All responses
63.2% Excellent
30.4% Very good
6.0% Satisfactory
0.3% Unsatisfactory
0.0% Poor
Very helpful and friendly DJB Labcare staff, with much expertise. 2021-09-10
Always prompt and reliable service 2020-05-28
Engineer was very helpful. 2021-08-11
Engineer always helpful and courteous 2021-01-11
We are very happy with the service provided. 2012-01-06
I contact DJB by email, my experience is that your staff respond immediatly, they are knowledgeabel and helpful. Always a pleasure to deal withthe team 2021-07-21
Our Sorvall Fresco 17 lid had been giving us troubles for a while because it was not opening properly (error-24). I called DJB Labcare Ltd in the morning and the lady was able to arrange for an engineer to come and have a look on the same day afternoon which I thought was brilliant! I am sorry I can't remember the name of the lady who answered my call, I would really like to thank her and praise her for her efficency.
The engineer, came as promised and solved our problem quickly and nicely!
We are extremely pleased with the assistance provided by the engineer and very grateful for his professionalism. 2016-08-05

Telephone response time

59.7% Excellent
32.9% Very good
7.0% Satisfactory
0.2% Unsatisfactory
0.2% Poor
Service team's knowledge and understanding of your requirements

65.3% Excellent
31.0% Very good
3.6% Satisfactory
0.2% Unsatisfactory
0.0% Poor
Response to your request within an acceptable time frame

64.9% Excellent
29.3% Very good
4.9% Satisfactory
0.8% Unsatisfactory
0.2% Poor
Quality of the workmanship

70.5% Excellent
26.2% Very good
3.0% Satisfactory
0.3% Unsatisfactory
0.0% Poor
Value for money

39.9% Excellent
40.9% Very good
18.7% Satisfactory
0.5% Unsatisfactory
0.0% Poor
Help and advice from our engineers

73.4% Excellent
23.2% Very good
3.3% Satisfactory
0.2% Unsatisfactory
0.0% Poor
Overall experience of DJB Labcare Ltd

65.0% Excellent
30.5% Very good
4.4% Satisfactory
0.2% Unsatisfactory
0.0% Poor
Likelihood of recommending DJB Labcare Ltd

65.9% Excellent
30.2% Very good
3.9% Satisfactory
0.0% Unsatisfactory
0.0% Poor