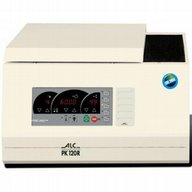 ALC PK 120R
Programmable centrifuge with brushless induction motor, Swing out rotor (4x190ml)
Details
Ideal for research and routine applications, the ALC PK series centrifuges are a new generation of technologically advanced, compact equipment. These centrifuges are available in two different capacities, each with both ventilated and refrigerated models.
The units are manufactured with advanced features such as a CFC-free refrigeration system, a brushless induction motor and accessories certified for biological safety.
Features
Refrigeration
Typical capacities
28 x Blood tube 4-7mm (13mm)
28 x Blood tube 7-10ml (16mm)
12 x Conical 15ml
4 x Conical 50ml
4 x Universal 25ml
4 x 96 well microplate
Availability
Available as Reconditioned
Please call our sales office or request a quote online for pricing/discount information.
Hire / Rent price
£75.00 /week
Price based on 26-week hire period.