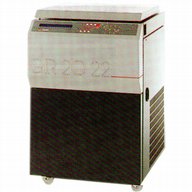 Jouan GR20.22
11174650
This item is not sold by DJB Labcare LTD and is provided for information purposes only
The GR20.22 features programmable temperature compensation and radius-controlled RCF calculation like the KR22i. An ergonomically positioned control panel facilitates the use of 50 storable programs that function in both RCF and RPM modes with integrator control. Several safety features, including a dual lid interlock, an armor plated chamber, and imbalance detector are standard items.
Details

FIBERLite Rotors are up to 65% lighter, do not corrode or fatigue and have a lifetime warranty.
Equivalents for:
SR12.22, AK500.11, AK250.14, AG100.18, AK50.17, AK50.22, AK50c, AB2.14 and exclusives.
Listed below is the complete range of FIBERLite Rotors available for the Jouan KR25i Centrifuge.
Features
Refrigeration
Availability
Not currently available