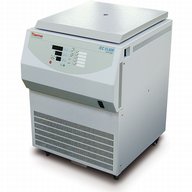 Thermo Scientific FL40
11210940
This machine has been replaced by the Sorvall Legend XF
The Thermo Scientific FL40 Centrifuge Series combines power, safety and versatility to increase your productivity in the lab. Available with a broad array of rotors and accessories for high-volume blood tube processing and microplate applications, the Thermo Scientific FL40 Centrifuge Series is the perfect choice for your busy clinical lab.
Details
The Thermo Scientific FL40 Centrifuge Series offers a sophisticated blend of power and versatility to help you process your samples safely and efficiently. Offering a broad array of accessories that meet the most stringent requirements for biocontainment, the Thermo Scientific FL40 Centrifuge Series is the perfect choice for your large clinical lab.
Intuitive Control Panel
Operating the Thermo Scientific FL40 centrifuge is fast, easy and accurate with the intuitive, watertight control panel and bright display which allows for continuous monitoring from across the laboratory.
Protocols can be saved in five memory locations on the panel for instant recall with a single keystroke.

For each protocol, centrifugation time, speed, 'g' force, temperature, acceleration and braking rates can be selected. Both set parameters and actual run conditions can be displayed and modified in real time.

Precise RCF setting and display can be achieved for any kind of adapter or container simply by programming the radius to within 1 mm; automatic rotor recognition prevents disallowed speeds from being achieved. Reliable and Repeatable Runs

The Thermo Scientific FL40 Series incorporates precise microprocessor-based controls that ensure reproducible runs in conformity with GLP standards.

To adjust protocols for spinning very fragile samples, the FL40 series software provides 5 acceleration and 5 braking profiles. This permits the minimum run time to be achieved while avoiding resuspension of the pellet. Precise Temperature Control

Ventilated FL40 and models provide centrifugation at room temperature, with minimal sample temperature increase.

Refrigerated FL40R and models are equipped with a powerful refrigeration system, offering settings from -9°C to 40°C. Excellent cooling performance is provided, even at maximum speeds. 4°C is easily maintained at full load, full speed, and with any rotor.
Features
Refrigeration
Typical capacities
30 x Microlitre 0.2-2ml
76 x Blood tube 4-7mm (13mm)
76 x Blood tube 7-10ml (16mm)
48 x Conical 15ml
24 x Conical 50ml
28 x Universal 25ml
16 x 96 well microplate
Availability
Not currently available
Accessories for Thermo Scientific FL40
| | |
| --- | --- |
| M4 SWING-OUT ROTOR (HEAD) | |
| QG2.5 TALL PLATE ROT EQUIPMENT | |
| CD1 FIXED ANGLE ROTOR 8X100 ML | |
| CD2 ANGLE ROTOR 10X50 ML ROUND | |
| CD3 FIXED ANGLE ROTOR 40X15 ML | |
| CD4 FIXED ANGLE ROTOR 40X15 ML | |
6 accessories, of 78 including subaccessories Show all...