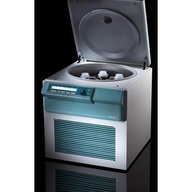 Roto Silenta 630 RS
C5005
Roto Silenta 630 RS
Details
Now even safer and with smoother, quieter operation. Thanks to its improved running performance, the ROTO SILENTA 630 RS guarantees best separating results with blood bags, bottles up to 2000 ml, tubes and blood collection tubes. Every commercial blood bag system can be accommodated. Loading the carriers and inserts is convenient and easy. Wind shielding the rotor is not necessary.
Features
Refrigeration
Availability
New price
£41331.00
Manufacturer's list price. Please call our sales office for potential discounts that may apply.
Accessories for Roto Silenta 630 RS
| | |
| --- | --- |
| 6 place swing out rotor with Hettodur coating | |
| Compatible with the ROTO SILENTA 630RS | |
2 accessories, of 32 including subaccessories Show all...