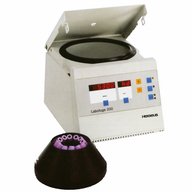 Heraeus Labofuge 200
75003630
Includes fixed angle 12 place rotor for standard blood tubes
Please note, there is limited capacity when using Greiner Vacuettes
Details
The Labofuge 200 compact centrifuge offers large capacity and therefore ensures a rapid sample throughput. Its clear, easy to clean touch panel makes work easy and helps the user to avoid mistakes. For the safe centrifugation of blood samples, the casing is equipped with an aerosol tight gasket. It is ideal for use in medical practices, small laboratories and as a stand-by unit in large laboratories.
All reconditioned machines are subject to availability
Features
Refrigeration
Typical capacities
12 x Blood tube 4-7mm (13mm)
12 x Blood tube 7-10ml (16mm)
Availability
Not currently available
Accessories for Heraeus Labofuge 200
1 accessories, of 4 including subaccessories Show all...