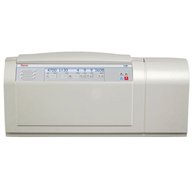 Thermo Scientific SL40R
75004527
Introducing the new Thermo Scientific SL 40 and SL 40R routine model, general purpose centrifuges with 3 litre capacity (4 x 750ml). These centrifuges provide industry-leading capacity and ergonomics at an exceptional value for everyday sample preparation, including clinical protocols, cell culture applications and microplate processing.
Unparalleled productivity and throughput: Process over 40% more 50 ml conical tubes or 100% more blood tubes with biocontainment sealing than competitive models.

Exceptional Egonomics: With our patented innovations, achieve safe, simple and comfortable daily operation.
Details
Auto-Lock® III Rotor System
Secure locking system delivers:
Installation and exchange of rotors with just the push of a button for quick switch between applications

Easy chamber access for quick cleaning, a healthier working environment and longer life of the unit
ClickSeal® Bucket Sealing System
Innovative biocontainment solution provides:
Simple operation eliminating screw caps and complicated clips

Glove-friendly, one-handed open/close capability

Biocontainment certification by CAMR* in Porton Down, UK

Polyetherimide (PEI) sealing covers with high chemical resistance and excellent thermal properties
SMARTSpin® Technology
Advanced rotor management system optimizes acceleration, braking and residual load imbalance for each rotor and bucket option,maximizing safety and improving separation particularly in pelleting applications
Motorized Lid Latch
One finger downward motion for easiest closing and locking - even on tall benches

Optional automatic lid opening at end of run

Compact, Comfortable Design

Exceptional capability in compact dimensions maximizes workspace

Ergonomic height and curved design ensure comfortable loading and unloading of samples and cleaning of the unit
Industry-Leading Energy Efficiency
Up to 40% energy consumption savings* on industry standard protocols, such as standard blood separation or conical tubes processing

Extended tubes capacity significantly reduces the number of runs in high throughput labs

Power saving option optimizes energy usage
Features
Refrigeration
Typical capacities
224 x Microlitre 0.2-2ml
196 x Blood tube 4-7mm (13mm)
148 x Blood tube 7-10ml (16mm)
88 x Conical 15ml
40 x Conical 50ml
28 x Universal 25ml
16 x 96 well microplate
Availability
Not currently available
Accessories for Thermo Scientific SL40R
| | |
| --- | --- |
| TX-1000 Rotor | |
| Microlitre rotor 48 x 1.5/2.0ml microlitre rotor. 15,000rpm, 24,573 x g. | |
| TX-750 rotor | |
| BIOLiner High Capacity rotor | |
| Bioshield® 1000A | |
| MICROLITER 48X2ML - SEALED ROTOR | |
| F21 - 48X2 CARBON FIBER ROTOR | |
| M-20 Microplate Rotor including standard open carriers (Biocontainment system sold... | |
| MICROLITER 30X2ML - SEALED ROTOR | |
| Professional Flight Case for safe and easy transportation | |
| HIGHCONIC II - 6X100ML SEALED ROTOR | |
| Fiberlite F15-6 x 100y Rotor for 100 mL/85 mL Nalgene | |
12 accessories, of 133 including subaccessories Show all...