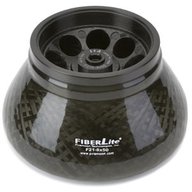 F21S-8x50
096-084075
Compatible with Super T21
Details
Catalog No. 096-084075
Model F21S-8x50
Max. Speed 18000
Max. g-force 38465
k factor 911
Rotor Mass 4.43 kg (9.78 lbs.)
Liquid Containment No
Warranty: 15 Years
Will Replace SL-250T
Will Spin In Super T21
Rmax 106
Rmin 33
Tube Angle 34
Application This rotor can be used for subcellular fractions, bacteria pelleting, lysate clarification, cell membranes, sucrose gradient isolation of mitochondria, endoplasmic reticulum, and gradient separation of cells with Percoll, Ficoll, Optiprep, or Nycodenz solutions.
Refresher Kit 021-084075
Extraction Tool Not Applicable
Lid O-rings 022-084075
Lid Assembly 099-084075
Availability
New price
£4755.00
Manufacturer's list price. Please call our sales office for potential discounts that may apply.