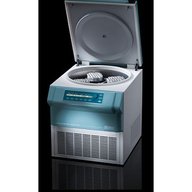 Hettich Rotanta 460 RF
C5675
Floor standing refrigerated centrifuge with brushless induction motor, high capacity 4x750ml, up to 108 standard 5/7ml blood tubes per run.
Details
The Rotanta 460 family of centrifuges is an extraordinary line that meets a wide range of demands. They feature high capacity, versatility and performance. Their state-of-the-art technology and high safety standards ensure smooth running for any laboratory application.
Features
Refrigeration
Typical capacities
108 x Blood tube 4-7mm (13mm)
76 x Blood tube 7-10ml (16mm)
56 x Conical 15ml
24 x Conical 50ml
28 x Universal 25ml
16 x 96 well microplate
Availability
New price
£13071.00
Manufacturer's list price. Please call our sales office for potential discounts that may apply.
Accessories for Hettich Rotanta 460 RF
| | |
| --- | --- |
| 4 place swing out rotor for ASTM tubes in Rotanta 460/460R | |
| Angle rotor 30 x 0.4-2.0ml with aerosoltight lid | |
| Disc rotor, 6 place for 30ml chrome bath tubes | |
| 6 x 94 ml angle rotor with lid | |
| 6 place disc rotor for Schlenk tubes | |
| 6 x 250 ml angle rotor with lid | |
| 4 Place swing-out rotor | |
| 6 Place swing-out rotor | |
| Swing-out rotor, 4-place | |
| 4-place without suspensions, angle 90° | |
10 accessories