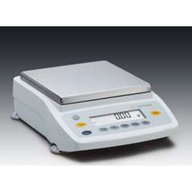 Extend ED2202S-OCE
If you compare the specifications of many lab balances on paper, they all look the same – if you've seen one, you've seen them all. But in the real world, there is more to a lab balance than just its technical specifications. The new Sartorius Extend series has been specially designed for effective and reliable weighing in daily lab routines. This is where more powerful technology and application-orientated operation and features make all the difference.
Details
Verified at the factory for use in legal metrology (EC type-approval certificate). The balance can be used "right out of the box" in legal-for-trade applications after internal calibration | adjustment.

White backlit, high-contrast display with 15-mm digits

Built-in, motorized calibration weight: maximum weighing accuracy at a simple press of the respective key

New operating concept: simple configuration of individual settings guided by short, menu-driven text prompts (choice of 5 languages) and by navigation
using the cursor keys
The most advanced microprocessor technology. More performance power, for even faster and more stable readings.

Monolithic weigh cell technology guarantees the long-term high quality of the weighing results.

The level indicator is positioned in the direct vicinity of the display – this enables the user to quickly check whether the balance is correctly leveled.

Digital filter levels of the newest generation offer optimal prerequisites for adapting the balance to the conditions at the place of use.

Bidirectional RS-232C interface port; connection of the balance to a USB port by an optional adapter cable.

ISO/GLP-compliant recording/printing of calibration, adjustment and weight values in conjunction with the optional YDP03- 0CE data printer.

Amply sized stainless steel weighing pan

Built-in application programs: calculation by a factor, weighing in %, net-total formulation, animal weighing (weigh averaging), totalizing

Mechanical protection of the weigh cell when overloaded and protection of the cell against side impact to the weighing pan.
Availability
Not currently available