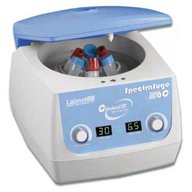 Labnet Spectrafuge 6C
C0060-230
The Spectrafuge 6C has been designed for quick production of PPP (platelet poor plasma) or PRP (platelet rich plasma) as well as other applications in the clinical and research laboratory.
Details
■ Ideal for PPP and PRP production
■ A Maximum speed 6,500 rpm/4,000 x g
■ Digital control and accuracy
■ Accepts 15 mL and most common blood draw tubes
■ Small footprint
■ Safe for cold room use
Features
Refrigeration
Availability
New price
£895.00
Manufacturer's list price. Please call our sales office for potential discounts that may apply.