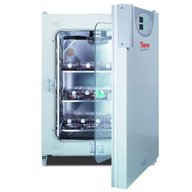 BB 15 CO2 Incubator 230V Stainless Steel inner chamber (HERAEUS)
51023121
Our Heraeus BB 15 Function Line CO2 incubator provides everything you need for the good growth of cell and tissue cultures.
Stainless steel inner chamber
Details
Major Features
• Precise temperature and CO2 control for optimal growth conditions
• Powerful humidification system for short recovery times
• Stainless steel inner chamber
Temperature Control
A precise Pt 1000 temperature sensor controls the air jacket heating for constant temperature.

In case of failure, the system is equipped with a second circuit, taking over control to keep the temperature at the preset value.
CO2 Control
The CO2 concentration is measured with a highly reliable TCD sensor. The sensor is auto calibrated on every auto-start routine.
Humidification
For reducing the surface area, the water pan has been eliminated and the bottom of the chamber is used as a water reservoir.

Therefore, a quicker evaporation rate has been achieved, through a greater water surface area and supported by the direct heat transfer from the bottom of the chamber.
Minimal Surface
The BB 15 chamber is consequently designed for a less contamination-prone surface area.

It doesn't have any air ducts and no duplicate side walls.

The shelf system has been reduced to the absolute minimum. Even the water pan has been eliminated. Therefore, the BB 15 has up to 50% less surface than other incubators.
Easy to Clean
The chamber has a high quality electropolished finish resulting in a very smooth surface.

All corners and edges are coved; there are no bolts or screws inside.

All door gaskets can be easily removed and reinstalled, making cleaning easy
Easy to Use
The shelf system is easy to mount and take off. The shelves contain a travel stop to avoid tipping when dragged out too far.

The back of the chamber is equipped with a 42mm (1.7 inch) access port to facilitate installation of appliances within the chamber.

Large displays allow easy parameter control.
Technical Specification
Volume (L): 151 (5.3 cu. ft)
Ambient temperature range (°C): +18 to 33
Temperature control range (°C): +3 to 55
Recovery time @ 5% CO2 (minutes): 5
External dimensions (W X D X H) (mm): 637 x 867 x 766
Internal dimensions (W X D X H) (mm): 470 x 607 x 530
Weight (kg): 70
Availability
New price
£6868.05
Manufacturer's list price. Please call our sales office for potential discounts that may apply.
Accessories for BB 15 CO2 Incubator 230V Stainless Steel inner chamber (HERAEUS)
| | |
| --- | --- |
| Support frame for double chamber, 185mm high (with castors) | |
| Support frame for double chamber, 200mm high (without castors) | |
| Support frame for single chamber, 780mm high (without castors) | |
| Additional stainless steel shelf, full-width, 2 support rails | |
| Set of 3 HERAtrays 1/3 width in stainless steel (autoclaveable) | |
| Set of 4 locking castors swivel, for support frames | |