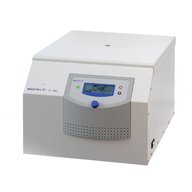 Sigma 4-5L (Set)
1040590
This new instrument has been designed specifically targeting the requirement for high-throughout in clinical applications. Key features include a new motor with high torque for fast acceleration, and the optimized air circulation design for efficient rotor cooling and low noise.
This set includes rotor , buckets , sealing lids and adapters for 9-15ml tubes.
Details
Table top centrifuge; speed range up to 4,700 RPM

Control unit Spincontrol L

Optimized for swing-out applications

Robust components for routine use

Lid can easily be opened due to pneumatic spring support

Maximum capacity of 4 x 650ml down to microtubes with different adapters in the same bucket

Maintenance-free induction drive motor. A microcontroller controls speed or gravitational field, time

2 Motorized lid locks

Up to 20g imbalance tolerance

Suitable for low speeds eg for cell sedimentation, accuracy +/- 1 rpm

Stainless steel bowl

Imbalance switch

No need to open the casing for emergency lid lock release

Window in the centrifuge lid for external speed control

Backlit keys for start, stop, lid open
Features
Refrigeration
Typical capacities
104 x Microlitre 0.2-2ml
80 x Blood tube 4-7mm (13mm)
76 x Blood tube 7-10ml (16mm)
60 x Conical 15ml
28 x Conical 50ml
32 x Universal 25ml
Availability
Available as New
Please call our sales office or request a quote online for pricing/discount information.