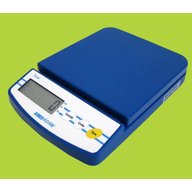 DCT 5000 Dune Compact Balance
DCT 5000
Details
With a low-profile, user-friendly design, advanced overload protection and a splash-proof keypad, Dune delivers reliable readings in the lab or in the field. Simple to operate with only three buttons: on/off, unit, and tare, the positive push-button feel provides trouble-free operation. Weighs in grams, ounces and pounds.
Capacity: 5000g
Readability: 2g
Pan size: 145mm x 145mm
Weighing units: g, oz
Operating temperature: 0-40 degrees C
Dimensions: 208mm x 147mm x 40mm
Weight: 480g
Availability
Available as New
Please call our sales office or request a quote online for pricing/discount information.