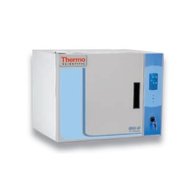 Thermo Scientific Midi 40 Small Capacity CO2 Incubator
3404
The Thermo Scientific Midi 40 CO2 incubator is designed specifically for cell culture scientists who require a compact culturing workspace to
handle small workloads, perform personal use applications, or simply address limited space environments.
Details
With its 1.4 cu ft (40 L) capacity, the Midi 40 adds a new dimension to the Thermo Scientific portfolio of leading CO2 incubation solutions. It delivers the performance and capabilities of full-sized incubators in a space-saving footprint, ideal for those who wish to avoid shared-use environments that can present potential contamination risk through unnecessary sample handling and repeated door openings.
Availability
Available as New
Please call our sales office or request a quote online for pricing/discount information.