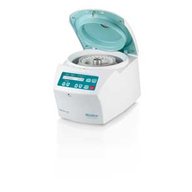 Hettich Mikro 185
C1203
The MIKRO 185 is a highly versatile centrifuge with a maximum RCF of 17,008 and a choice of four rotors.
Details
All separation steps that are necessary for sample preparation for molecular biology applications and that do not require cooling can be performed rapidly and reliably. Spin column kits (minipreps) can also be used. This is facilitated by the special design of rotor 1213.
The ergonomic design of the MIKRO 185 enables centrifugation procedures to be carried out rapidly and with ease. The parameters time, RPM and RCF can be easily set via arrow keys on the control panel, which is clearly laid out. The values are displayed on the backlit LCD display while the centrifuge is running. The lid of the centrifuge opens automatically once centrifugation is concluded.
Its compact dimensions mean that the MIKRO 185 takes up little space on the workbench.
Features
Refrigeration
Typical capacities
40 x Microlitre 0.2-2ml
Availability
New price
£1866.00
Manufacturer's list price. Please call our sales office for potential discounts that may apply.
Accessories for Hettich Mikro 185
| | |
| --- | --- |
| Angle rotor, 24 x 1,5/2 ml | |
| Angle rotor, 12 x 1,5/2 ml | |
| Angle rotor, 18 x 1,5/2 ml | |
| Angle rotor, for 18 spin column kits | |
4 accessories, of 21 including subaccessories Show all...