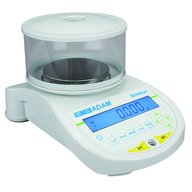 NBL 223e
NBL 223E
NBL 223 Nimbus precision Balances
Details
The Nimbus series of balances offers a range of models that deliver precision readabilities from 0.0001g (0.1mg) to 0.1g.
With a compact footprint and intuitive user interface, Nimbus provides a streamlined weighing experience. Enhanced processing power combines with efficient technology to produce a balance that weathers the storms in demanding laboratories.
Capacity: 220g
Readability: 0.001g
Pan size: 120mm
Weighing units: g, mg, ct, GN, N, lb, oz, ozt, dwt. custom
Operating temperature: 0-40 degrees C
Dimensions: 220mm x 310mm x 270mm
Weight: 4.5kg
Model is also available with Internal calibration
Availability
New price
£450.00
Manufacturer's list price. Please call our sales office for potential discounts that may apply.