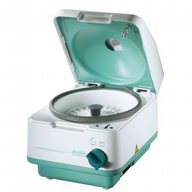 Hettich Haematokrit 210
C2104
24 Haematocrit Centrifuge, at 16,060g sedimentation is completed in just a little over 6 minutes. At any rate, a run time of 10 minutes is sufficient.
Replaced by Haematokrit 200
Details
Safety first
At 16,060g sedimentation is completed in just a little over 6 minutes. At any rate, a run time of 10 minutes is sufficient. The rotor comes to a braked standstill. Each capillary is secured within its own chamber and supported by a holding tray.This holding tray serves to contain glass shards and any leakage should a tube break. It is easy to clean and disposable in the case of glass breakage. Capillaries, to be used for quantitative buffy coat analysis are centrifuged in the 20-place rotor prior to further analysis.
User-friendliness
Quick-entry foil keypad

Easy-to-read, digital display

Display of current parameter values

Easy entry of the parameters

RPM in increments of 100

Running time in minutes, max. 99 min
Features
Refrigeration
Typical capacities
24 x Haematocrit capillaries
Availability
Not currently available
Accessories for Hettich Haematokrit 210
| | |
| --- | --- |
| 24 Place Haematocrit Rotor | |
| Professional Flight Case for safe and easy transportation | |
2 accessories, of 8 including subaccessories Show all...