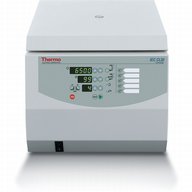 Thermo Scientific CL30
11210904
The CL30 is no longer available and has been superseded by a fantastic new range of centrifuges. For more information please look at the brand new Thermo Scientific Sorvall ST 16
The Thermo Scientific CL30 Series is an excellent choice for your low-speed clinical applications. Convenience, Reliability and Value in Sample Preparation offering maximum convenience and exceptional value in a multipurpose benchtop centrifuge.
Details
Convenience
The unique AUTO-LOCK® rotor exchange system on the Thermo Scientific CL30 Series lets you swap rotors in seconds. You can change protocols quickly and perform daily cleaning tasks with ease.

With its broad selection of rotors, buckets and adapters, the Thermo Scientific CL30 Series can be equipped to support virtually every routine clinical application. Reliability

The Thermo Scientific CL30 Series' brushless induction motor provides years of service with minimal maintenance. Its quiet operation eliminates distractions.

The CL30R centrifuge uses an ozone-friendly, CFC-free refrigerant for compliance with environmental protection regulations.
High Capacity
The Thermo Scientific CL30 Series delivers high capacity in a compact footprint. You can run 60 x 5/7 mL, 30 x 15 mL, and 16 x 50 mL cell culture tubes or microplates –without giving up precious bench space.
Ease of Use
A simple, intuitive control panel gives you push-button access to frequently-used programs.

G-force run control ensures transferability of your protocols from other centrifuges, without crossreferencing to RPM.
Safety
Supports a protected laboratory environment with a full set of sealed accessories, tested by CAMR in Porton Down, England, the gold-standard in biological safety testing.
Features
Refrigeration
Typical capacities
24 x Microlitre 0.2-2ml
48 x Blood tube 4-7mm (13mm)
40 x Blood tube 7-10ml (16mm)
7 x Conical 15ml
12 x Conical 50ml
12 x Universal 25ml
Availability
Not currently available
Accessories for Thermo Scientific CL30
| | |
| --- | --- |
| S41 SWING-OUT ROTOR (HEAD) | |
| T41 SWING-OUT ROTOR (HEAD) | |
| T20 ROTOR 2X3 MICROPLATE ROTOR | |
| AC15.4 ANGLE ROTOR, 30X15ML | |
| AC50.10 ANGLE ROTOR 6X50ML CON | |
| AC2.14 SEALED ROTOR 24X2ML | |
6 accessories, of 113 including subaccessories Show all...