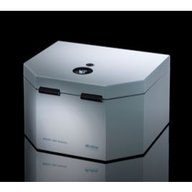 Mikro 220 Robotic centrifuge
C2350
The MIKRO 220 Robotic is an air-cooled, robotically operated microlitre centrifuge with PC activation. It centrifuges tubes up to 2.0 ml (e.g. microlitre tubes or HPLC tubes) quickly and safely.
Details
Wherever processes can be automated, MIKRO 220 Robotic centrifuges will optimize the workflow. Samples are centrifuged automatically while the laboratory personnel are able to concentrate on other tasks.
As loading and unloading is carried out by means of a robot arm, the samples are made available for further processing right after centrifugation.
Features
Refrigeration
Typical capacities
24 x Microlitre 0.2-2ml
Availability
Available as New
Please call our sales office or request a quote online for pricing/discount information.