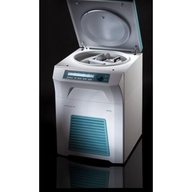 Hettich Rotixa 500RS
C4950
The high-capacity, refrigerated floor-standing ROTIXA 500 RS can hold 4 x 1,000 ml bottles. It is equipped as standard with an S control panel.
Details
Its sturdy components make the ROTIXA 500RS a highly reliable instrument which will provide years of service. Its high capacity and a maximum RCF of 5,252 make it suitable for a wide range of centrifuging applications. This extremely effective centrifuge can handle up to 192 blood collection tubes per run, making it the ideal solution when large sample volumes have to be centrifuged in clinical chemistry procedures.
The ROTIXA 500RS is however also invaluable in R&D and quality control departments in the life sciences industry and in other industrial fields thanks to its versatility. It has proven itself in the search for active ingredients, as well as in the separation of food samples and cell suspensions, precipitates from chemical reactions, soil samples and of course also blood and its constituents.
The centrifuge has the following exciting features!
Stable metal casing

Centrifugation chamber of rust-free stainless steel

Ergonomic operating and display panel

Viewing port in the lid

Ergonomic operating and display panel

Large display, easy to read, showing the current status of all parameters when the centrifuge is running

Centrifugation chamber of rust-free stainless steel

Lid locking and latching and protection against dropping

Emergency lid release

Automatic rotor recognition

Imbalance switch-off

Key-operated switch against unauthorized data change

Motor overheating protection

Chamber overheating protection
Features
Refrigeration
Typical capacities
336 x Microlitre 0.2-2ml
120 x Blood tube 4-7mm (13mm)
120 x Blood tube 7-10ml (16mm)
92 x Conical 15ml
32 x Conical 50ml
32 x Universal 25ml
24 x 96 well microplate
Availability
New price
£21670.00
Manufacturer's list price. Please call our sales office for potential discounts that may apply.
Accessories for Hettich Rotixa 500RS
| | |
| --- | --- |
| 6 Place swing-out rotor | |