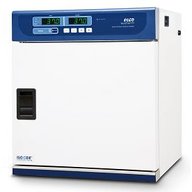 Isotherm® Natural Convection Incubator, 170L, 220-240VAC 50/60Hz
INA-170-8
Introducing Esco Isotherm®- world class laboratory incubators from Esco for thermal applications that prefers natural convection design to minimize disturbance to the items being cultured such as bacteria culture and Coliform determination among many others. With ergonomic design, microprocessor PID controls, 4-zone heated air jacket and precisely tuned and tested insulation package, Esco Isotherm® is your reliable oven for universal application.
This 170 litre incubator comes with a 3 year manufacturer's warranty
Details
Key Features
Superior insulation:
Improves chamber stability while reducing external surface temperatures

Reduces heat load output to the laboratory and operating power consumption, and lowers operating costs
SmartSense™ Microprocessor PID Control Technology
Connected to an instrument-grade precision platinum-temperature probe

Ensures fast ramp time. Prevents overshoot and ensures stable temperature once set point is achieved

Twin temperature display for easy monitoring ("Actual" and "Set Point" displays)

Diagnostic LEDs simplify service
Quality Esco Construction
*Electro-galvanized steel exteriors
Isocide™ coated external surfaces to eliminate 99.9% of surface bacteria within 24 hours of exposure
Glass Door
For observing samples inside the chamber during operation
Solaris™ Pre-Heat Chamber Technology
Guarantees maximum thermal performance

4-zone heated air jacket ensures stable heating and maximum temperature uniformity in the chamber

Standard temperature range of up to 300°C for maximum application stability

2-point door seal and eccentric hinge ensures maximum gasket compression for stable chamber temperature
Technical Specification
Volume: 170 L (6.0 cu. ft)

Temperature Range Ambient +7.5°C to 80°C

Heating up time (minutes): 42

Recovery time after 30 seconds door open (minutes): 3.5

Number of shelves (standard)- 2

Maximum load per shelf (kg)- 30

External dimensions (W x D x H) (mm)- 810 x 693 x 889

Internal dimensions (W x D x H) (mm)- 580 x 500 x 580

Weight (kg)- 92.5
Availability
Available as New
Please call our sales office or request a quote online for pricing/discount information.
Accessories for Isotherm® Natural Convection Incubator, 170L, 220-240VAC 50/60Hz