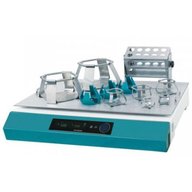 OS-7200 Open Air Shaker- Orbital Action
AAH3D1515K
Orbital-action benchtop Platform Shakers - Powerful drive system with a durable body structure increases shaking capacity Suitable for larger or heavier workloads requiring accurate and reproducible results.
Details
Microprocessor PID control
Intelligent speed controller enables reproducible results

Shaking speed calibration matching the displayed rpm to the reference point • Various speed ranges up to max. 500 rpm

Timer range: 1 min to 999 hr 59 min
Orbit diameter:
User friendly control panel
Unique VFD-bright, clear, easy to read

Durable membrane touch switch and control knob

Speed is basically set and displayed in increments of 1 rpm

Speed increment interval can be set among 1, 5, 10 rpm according to users preference
• Built in RS-232 port and USB port for external control and data collection
Safety Features
Worry-free operation

Automatic shaking speed adjustment in case of excessive workload, such as unbalanced load placement or vibrations caused by unstable floor or external shock

Automatic run is available with non-volatile set point memory after power interruption, indicated in control display

Audible/Visible Alarm activated by shaking speed deviation

Shaker protection system against over-current
Availability
New price
£3745.45
Manufacturer's list price. Please call our sales office for potential discounts that may apply.
Accessories for OS-7200 Open Air Shaker- Orbital Action
1 accessories, of 25 including subaccessories Show all...