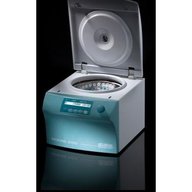 Hettich Mikro 200
C2400
The Mikro 200 ranks among the fastest centrifuges in their class - with a maximum speed of 14,000 RPM and an RCF of 18,626.
Details
Cool sprinter
Even thermosensitive samples can be gently centrifuged thanks to highly reliable refrigeration. Best separation results are guaranteed with the smooth-running, high-performance motor featuring a maintenance-free frequency drive. With the autoclavable and aerosol-tight accessories, even infectious materials can be processed safely for both the user and the environment.
Features
Refrigeration
Typical capacities
24 x Microlitre 0.2-2ml
Availability
New price
£2313.00
Manufacturer's list price. Please call our sales office for potential discounts that may apply.
Accessories for Hettich Mikro 200
| | |
| --- | --- |
| Angle rotor for 4 strips of 8 x 0.2 ml PCR tubes (without lid-E2040) | |
| Optional rotor lid for A2418 rotor | |
| 24 x 1.5 ml angle rotor with lid (see A2425 for aerosol tight lid option) | |
| Lid for rotors A2424, A2430 and A1420 (phenol resistant, aerosol tight and autoclavable) | |
| Lid for rotors A2424, A2430 and A1420, (aerosol tight and autoclavable) | |
| Adapter 1-place for microlitre tubes 0.5/0.8 ml (6 pcs.) | |
| Microtube 0.4ml Beckman (pack of 1000) | |
| Microtube 0.5ml RNAse free (pack of 1000) | |
| Microtube 0.5ml RNAse free (pack of 1000) | |
| Adapter 1-place for microlitre tubes 0.2/0.4 ml (6 pcs.) | |
| Adapter 1-place for microlitre tubes 1.5 ml (6 pcs.) | |
| Microtube 1.5ml yellow (pack of 5000) | |
| Microtube 1.5ml blue (pack of 5000) | |
| Microtube 1.5ml green (pack of 5000) | |
| Microtube 1.5ml pink (pack of 5000) | |
| Microtube 1.5ml Twist Lock (pack of 5000) | |
| Microtube 2.0ml Polypropylene (pack of 500) | |
| Microtube 1.5m threaded and not skirted (pack of 500) | |
| Cap with integral O ring for above (pack of 500) | |
| DJB bespoke adapters manufactured to suit your requirements ideal for specialist tubes | |
| Clip on Lid for rotor A2424-B only | |
| 20 Place Angle Rotor for 12.5 x 36mm Cryo Tubes | |
| | |
| Angle rotor 30-place with standard lid for microlitre tubes 0.2-2.0 ml, angle 40° &... | |
| Professional Flight Case for safe and easy transportation | |
| For 1.5-2.0 ml tubes | |
| Lid bio-containment, autoclavable & phenol-resistant | |
| Lid bio-containment, autoclavable & phenol-resistant | |