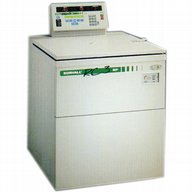 Sorvall RC-3BP
56303
This item is not sold by DJB Labcare LTD and is provided for information purposes only
The SORVALL® RC3BPTM Centrifuge System has been specifically designed to help you meet compliance demands easily and accurately without compromising productivity. In addition, the RC3BPTM is reliable, easy to use and equipped with many productivity enhancing features And you're assured the same reproducible, trouble-free results you get from all SORVALL® centrifuges
Details

FIBERLite Rotors are up to 65% lighter, do not corrode or fatigue and have a lifetime warranty.
Equivalents for:
LAC-6000, LAC-250 and exclusives.
Listed below is the complete range of FIBERLite Rotors available for the Sorvall RC-3BP Centrifuge.
Features
Refrigeration
Availability
Available as New
Please call our sales office or request a quote online for pricing/discount information.
Accessories for Sorvall RC-3BP
| | |
| --- | --- |
| Comptible with RC3 Series centrifuges, 3200 RPM, 1938 xg | |
| Compatible with Sorvall RC-3B, Rc-3C and RC-3BP Series | |
2 accessories, of 3 including subaccessories Show all...