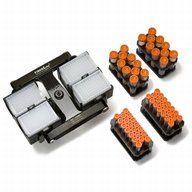 H3-LV High Volume
096-028015
Comptible with RC3 Series centrifuges, 3200 RPM, 1938 xg
Details
Catalog No. 096-028015
Model H3-LV High Volume
Max. Speed: 3,200rpm
Max. g-force: 2,000xg
k factor: 42,711
Warranty: 15 Years
Rmax 169mm
Rmin 95mm
Will Spin in J6 Series
Applications:
H-3 Large Volume with Microplates: Pelleting Cells, spining down liquid, precipitating particles, processing samples through filters.
H-3 Large Volume with Adapters: Isolation of cells, collection of plasma from blood, harvesting subcellular organelles, collection of physiological fluids for diagnostic tests.
O Ring Refresher Kit 021-028015
Compatible with: Sorvall RC-3B, Sorvall RC-3BP, Sorvall RC-3C
Availability
New price
£6785.00
Manufacturer's list price. Please call our sales office for potential discounts that may apply.