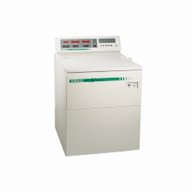 Sorvall RC-3C
56156
This item is not sold by DJB Labcare LTD and is provided for information purposes only
SORVALL® centrifuges have been an industry standard for quality and reliability for over 50 years. Whether at work in a clinical laboratory, a blood bank, a university or an industrial setting, SORVALL® lowspeed centrifuges can be relied upon to deliver safe, reproducible and trouble-free results for many years. RC-3C Plus and RC-3B Plus lowspeed centrifuges feature large capacity and quiet, low-heat operation made possible by time-tested drive and refrigeration systems. And like all SORVALL® centrifuge products, they come with many built-in safety and environmental features, including SUVA® CFC-free refrigerants. SUVA® CFC-free refrigerants provide equivalent and efficient cooling while helping to preserve the environment.
Details

FIBERLite Rotors are up to 65% lighter, do not corrode or fatigue and have a lifetime warranty.
Equivalents for:
LAC-6000, LAC-250 and exclusives.
Listed below is the complete range of FIBERLite Rotors available for the Sorvall RC-3C Centrifuge.
Features
Refrigeration
Availability
Not currently available
Accessories for Sorvall RC-3C
| | |
| --- | --- |
| Comptible with RC3 Series centrifuges, 3200 RPM, 1938 xg | |
| Compatible with Sorvall RC-3B, Rc-3C and RC-3BP Series | |
2 accessories, of 3 including subaccessories Show all...