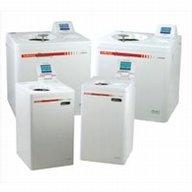 Sorvall Discovery
SORVALL DISCOVERY
This item is not sold by DJB Labcare LTD and is provided for information purposes only
SORVALL® DiscoveryTM SE floor model ultracentrifuges and micro-ultracentrifuges incorporate powerful functionality to make even complex separations straightforward. The ultracentrifuges offer top speeds to 100,000 rpm. They utilize a simple operator interface, comprising an intuitive keypad and large LCD display, for easy set-up of routine spins and access to advanced functions. Standard features include automatic RCF/RPM mode, a 20-program memory and an on-line rotor catalog. Floor standing micro-ultras offer high RCF's (in excess of 1,048,000 ×g), speeds to 150,000 rpm and rotor capacities to 66 ml. A quick-setting rotor system eliminates the need for torque wrenches, while an advanced damper bearing absorbs vibration, so tubes can be balanced visually.
Details

FIBERLite Rotors are up to 65% lighter, do not corrode or fatigue and have a lifetime warranty.
Equivalents for:
A-621, A-641, T-647.5, A-841, T-1250, T-865.1, T-875 and exclusives.
Listed below is the complete range of FIBERLite Rotors available for the Sorvall Discovery Ultra Centrifuge.
Features
Refrigeration
Availability
Not currently available
Accessories for Sorvall Discovery
| | |
| --- | --- |
| Compatible with ULTRA centrifuges, 50000 RPM, 257600 xg | |
| Comptible with ULTRA centrifuges, 65000 RPM, 324142 xg | |
| Compatible with Ultra Speed floor model centrifuges | |
| Compatible with Ultra Speed floor model centrifuges | |
4 accessories, of 14 including subaccessories Show all...