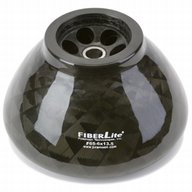 F65L-6X13.5
096-067135
Comptible with ULTRA centrifuges, 65000 RPM, 324142 xg
Details
Catalog No. 096-067135
Model F65L-6x13.5
Max. Speed 65000
Max. g-force 324142
k factor 70
Rotor Mass 6.8 lbs.
Liquid Containment No
Warranty: 15 Years
Will Replace Beckman Type 40, Type 50 Ti, Type 70.1, Type 75 Ti, Type 90 Ti, SW 41 Ti/Sorvall T-865.1, T-875, T-880, T-890, T-1270, TH-641
Will Spin In Beckman L Series or Sorvall OTD, Discovery, Ultra Pro 80 Series
Rmax 68
Rmin 21
Applications:
Pelleting of small molecular weight particles, purification of viruses with polyethylene glycol gradients, separation of nucleic acids, ( RNA ) using cesium sulphate gradients

Separating plasmid DNA also single and double stranded DNA

Using cesium chloride-ethidium bromide gradients in overnight runs
Refresher Kit 021-067135
Extraction Tool Not Applicable
Lid O-rings 022-067135
Lid Assembly 099-067135
Compatible with: Beckman Optima, Sorvall Discovery, Sorvall WX Ultra
Availability
New price
£19596.00
Manufacturer's list price. Please call our sales office for potential discounts that may apply.