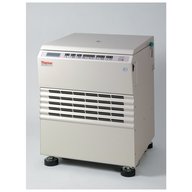 Sorvall RC-4
75004473
Personal processing power for every laboratory environment.
Details
The Sorvall RC-4 provides personal processing power for every laboratory environment. With its wide range of rotors, including swinging bucket, windshielded swinging bucket, clinical analyzer rack and high-capacity fixed-angle varieties, this portable general purpose centrifuge is equally at home in clinical, biotechnology, microbiology, pharmaceutical and small blood processing labs.
Features and Benefits:
Fastest processing and highest throughput of any 4 litre centrifuge

Large 4 litre or 4 x 500 ml quad blood bag capacity

Accomodates 32 standard microplates or 8 deepwell plates

Enhanced user safety: choose from 5 biocontainment approved rotors, accommodating samples from 1.5 - 1000 ml

New Diagnostik rotor spins tubes pre-loaded in clinical analyzer racks

HIGHplate rotor spins filter plates to 85 mm in height

Optimum run stability with SMARTspin Imbalance Detection System

Easy-to-clean soft-touch keypad

Reduced maintenance with brushless induction drive
Technical data:
Max. capacity 4 x 1,000 ml or 4 x 8 standard microplates
Max. speed 10,000 rpm
Temperature range -9 to +40
Max. RCF 15,320 x g
Features
Refrigeration
Typical capacities
76 x Blood tube 4-7mm (13mm)
76 x Blood tube 7-10ml (16mm)
48 x Conical 15ml
24 x Conical 50ml
28 x Universal 25ml
32 x 96 well microplate
Availability
New price
£21737.00
Manufacturer's list price. Please call our sales office for potential discounts that may apply.
Accessories for Sorvall RC-4
| | |
| --- | --- |
| 4 x 250ml sealed rotor inc. buckets for D type adaptors | |
| Adaptor 56 x 1.5 / 2.0 ml microtubes, black | |
| Adaptor 28 x 7ml DIN tubes with decanting aid, yellow | |
| Adaptor 20 x 7ml blood tube. Light grey | |
| Adapter 16 x 15 ml DIN and blood tubes with decanting aid, red | |
| Adapter 9 x 15 ml conical tissue culture and US-Urine tubes, olive green / brown | |
| 15ml Graduated centrifuge with screw cap (pack of 500) | |
| Adaptor 6 x 25 ml DIN tubes, orange | |
| Adaptor 4 x 25 / 50 ml universal container, turquoise green | |
| 30ml Universal tubes, no label - polystyrene (pack of 400) | |
| 30ml Universal tubes, no label - Polypropylene (pack of 400) | |
| 30ml Universal tubes, printed label - Polypropylene (pack of 400) | |
| 30ml Universal tubes, plain label - Polystyrene (pack of 400) | |
| 30ml Universal tubes, with spoon, label - Polypropylene (pack 400) | |
| 30ml Universal tubes, with boric acid, no label - Polypropylene (pack of 400) | |
| 30 ml Universal, labelled - Polystyrene (pack of 400) | |
| Adaptor 3 x 50 ml DIN tubes, green | |
| Adaptor 4 x 50 ml conical and free standing tissue culture tubes, light green | |
| Adaptor 1 x 100ml DIN tubes, blue | |
| Adaptor 1 x 150 ml DIN tube, grey/blue | |
| Centri-Lab Adaptor 1 x 250 ml bottle (black) | |
| Centri-Lab Adaptor for Zyto-system® | |
| To use Type A adapters in bucket 75006446 or Bio-shield rotor 75006435 a bucket adapter... | |
| Centri-Lab Adapter 24 x 15 ml Conical, D | |
| Adaptor 4 x 45 / 50 ml flat and round bottom tubes, blue | |
| Adaptor 9 x 14 / 15 ml flanged tube, brown | |
| Comptible with RC4 (USA), RC-4 centrifuges, Heraeus Cryofuge 5500i 10000 RPM, 15344 xg,... | |
| 1 place each | |
| | |
| | |
| | |
| Adapter for 3x30ml Glass Round Bottom Tubes (each) | |
| | |
| Adapter for 7x10ml Round Bottom Tubes (each) | |
| Adapter for 12x5ml Round Bottom Tubes (each) | |
| | |
| Comptible with RC4 (USA), RC-4, Heraeus Cryofuge 5500i centrifuges, 10000 RPM, 17136 xg,... | |
| | |
| 50ml Conical Sterile Polypropylene Centrifuge Tube With Screw Cap (Pack of 20) | |
| | |
| | |
| Adaptor 48 x 1.5/2.0 micro-tubes (black) | |
| Microtube 1.5ml' flat top' (pack of 1000) | |
| Microtube 1.5ml yellow (pack of 5000) | |
| Microtube 1.5ml blue (pack of 5000) | |
| Microtube 1.5ml green (pack of 5000) | |
| Microtube 1.5ml pink (pack of 5000) | |
| Microtube 1.5ml Twist Lock (pack of 5000) | |
| Microtube 2.0ml Polypropylene (pack of 500) | |
| Microtube 1.5m threaded and not skirted (pack of 500) | |
| Cap with integral O ring for above (pack of 500) | |
| Adaptor 35 x 7 ml DIN standard tubes (yellow) | |
| | |
| Adaptor 19 x 15 ml DIN standard tubes (red) | |
| Adaptor 17 x 15 ml blood sample tubes (white) | |
| Adaptor 12 x 15 ml Falcon-type tubes (brown) | |
| Adaptor 7 x 25 ml DIN/28 ml Universal tubes (orange) | |
| Adaptor 4 x 50 ml DIN standard tubes (green) | |
| Adaptor 2 x 100 ml DIN standard tubes (blue) | |
| | |
| | |
| Adapters for 50 ml disposable skirted-conical tube | |
| | |
| Adaptor 1 x 250 ml DIN standard tubes | |
| Adapter for 1 x 250 ml flat-bottomed bottle | |
| Adaptor 1 x 500 ml Nalge tubes (tube not compatible with 6441 rotor) | |
| | |
| Adaptor 1 x 250 ml Corning tubes | |
| Aerosol tight cap for round bucket 750/1000ml (pair) | |
| Liquid pad for 500ml Baxter | |
| PLASTIC INSERT XL SET OF 2 | |
| PLASTIC INSERT M ROUND SET OF 2 | |
| Pack of 4 balancing plates of rubber, 2 x 35 g and 2 x 65 g | |
| Taring weight for adapter 76007647: 4 of 6 g and 15 g | |
| | |
| | |
| | |
| | |
| Adapter for 500 ml quint, quad, triple with in-line filters (pack of 6) | |
| Adapter for 450/500 nil quad, triple (pack of 6) | |
| Adapter for 450 ml triple (pack of 6) | |
| Adapter for 450 ml double 9 pack of 6 | |
| Taring range 280g - 1,700g | |
| | |
| Sold as a set of 2 | |
| ADAPTER F.OLYMPUS RACK IN 75006480 SET | |
| ADAPTER F. SYSMEX RACK F. 75006480 SET | |
| ADAPTER F.DADE BEHRING RACK IN 75006480 | |