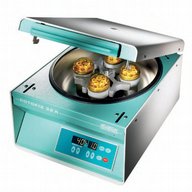 Hettich Rotofix 32A (110V)
C1206-01
The non-refrigerated ROTOFIX 32A is the ideal bench-top centrifuge for performing daily routine tasks in doctors laboratories and small hospitals.
Details
Its performance and capacity are designed to easily and efficiently process all incoming samples. Larger hospitals appreciate the ROTOFIX 32A for spinning an occasional sample in between. Not only in clinical chemistry, but also in cytology the ROTOFIX 32A does a perfect job. Special cytology accessories turn the ROTOFIX 32A into a cyto-centrifuge that can process a maximum of 8 slides per run.
Ideal for physicians and small laboratories.
Features
Refrigeration
Typical capacities
16 x Blood tube 4-7mm (13mm)
16 x Blood tube 7-10ml (16mm)
8 x Conical 15ml
8 x Conical 50ml
4 x Universal 25ml
Availability
New price
£2492.00
Manufacturer's list price. Please call our sales office for potential discounts that may apply.
Accessories for Hettich Rotofix 32A (110V)
| | |
| --- | --- |
| 4 place swing out rotor | |
| Plastic bucket for 45 ml tube 31 x 100 mm | |
| Plastic bucket for 2 x 20 ml tubes 21 x 100 mm | |
| Plastic bucket for 4 x 15 ml tubes 17 x 100 mm | |
| Plastic bucket for 5 x 9 ml tubes 14 x 100 mm | |
| Plastic bucket for 17 x 5 ml tubes 13 x 75 mm | |
| Plastic bucket for 10 tubes 8-14 x 66-100 mm | |
| Plastic pad for 8 ml tubes | |
| Plastic bucket for 7 tubes 13-17 x 75-120 mm | |
| Rubber pad for 15 ml carriers | |
| Insert for 2 x 25 ml tubes 25 x 92-100 mm | |
| Insert for 1 x 50ml tube 34 x 100 mm | |
| Rectangular bucket | |
| Insert for 12 tubes 10 x 60 mm | |
| Insert for 30 tubes 6 x 45 mm | |
| Insert for 9 x 1.5-2.2 ml microtubes | |
| Microtube 1.5ml yellow (pack of 5000) | |
| Microtube 1.5ml blue (pack of 5000) | |
| Microtube 1.5ml green (pack of 5000) | |
| Microtube 1.5ml pink (pack of 5000) | |
| Microtube 1.5ml Twist Lock (pack of 5000) | |
| Microtube 2.0ml Polypropylene (pack of 500) | |
| Microtube 1.5m threaded and not skirted (pack of 500) | |
| Cap with integral O ring for above (pack of 500) | |
| Insert for 12 tubes 12 x 60 mm | |
| | |
| Double stage insert for cyto slide carriers | |
| Does not include the Angled chamber and Filter card | |
| | |
| Pack of 200 Filter cards for 1,2 and 4ml Cyto chambers. | |
| Filter cards for 1ml, 2ml and 4ml cyto chambers. | |
| | |
| | |
| | |
| Filter cards for 8ml cyto chamber. | |
| Filter cards for 8ml cyto chamber. | |
| | |
| Filter cards for 3 x 2ml cyto chamber. | |
| Filter cards for 3 x 2ml cyto chamber. | |
| | |
| Filter cards for 4 x 1ml cyto chamber. | |
| Filter cards for 4 x 1ml cyto chamber. | |
| | |
| For bucket A1660 | |
| Carrier for A1624 Rotor | |
| Insert for 4 tubes 15-17 x 91-105 mm | |
| Insert for 1 x 25 ml tube (inc. plastic Universals) | |
| Insert for 1 x 50 ml tube 34 x 100 mm | |
| Insert for 27 tubes 6 x 45 mm | |
| Insert for 9 tubes 10 x 52-60 mm | |
| Insert for 1 x 15 ml Falcon tube | |
| 15ml Graduated centrifuge with screw cap (pack of 500) | |
| Insert for 4 tubes 16 x 75 / 100 | |
| Insert for 5 microtubes | |
| Insert for 1 x tube 25 x 110mm | |
| 30ml Universal tubes, no label - polystyrene (pack of 400) | |
| 30ml Universal tubes, no label - Polypropylene (pack of 400) | |
| 30ml Universal tubes, printed label - Polypropylene (pack of 400) | |
| 30ml Universal tubes, plain label - Polystyrene (pack of 400) | |
| 30ml Universal tubes, with spoon, no label - Polypropylene (pack 400) | |
| 30ml Universal tubes, with boric acid, no label - Polypropylene (pack of 400) | |
| 30 ml Universal, labelled - Polystyrene (pack of 400) | |
| Insert for 5 tubes 13 x 75-105 mm | |
| Insert for 1 x 50 ml Falcon tube | |
| 50ml Conical Sterile Polypropylene Centrifuge Tube With Screw Cap (Pack of 20) | |
| Insert for 1 x 85 ml tube 38 x 101 mm | |
| Insert for 4 blood collection tubes 15 x 75-92 mm | |
| Insert for 1 tube 29 x 107 mm | |
| Insert for 1 tube 26 x 95 mm | |
| Insert for 1 x 50 ml Skirted Conical Tube | |
| Rubber pad for 100 ml tubes | |
| Rubber insert for chrome bath tubes 0534 | |
| Insert for 7 tubes 8 x 66 mm | |
| Insert for 1 x tube 25 x 90mm | |
| Insert for 1 x 12ml conical skirted tube | |
| Lid for A1481, A1490 and A1495 Carriers | |
| O rings for 1492 lids (set of 4) | |
| 4 place swing out rotor | |
| 100ml round bucket for rotor A1324 | |
| Insert for 4 x 15ml tubes | |
| Insert for 4 x 15ml Falcon tubes | |
| Insert for 1 x 50ml skirted Falcon tube | |
| Adapter in suspension 1398 f. 5 x 1,6 - 7 ml tubes | |
| Adapter f. KOVA-urine tubes 3 x 12 ml in bucket A1398 | |
| Carriers for A1324 Rotor | |
| Insert for 3 x 15 ml Falcon tubes (for bucket 1390 without sealing cap A1382) | |
| 6 place swing out rotor for Falcon tubes | |
| Insert for 15 ml Falcon tube | |
| 8 place swing out rotor for Falcon tubes | |
| 12 place swing out rotor without buckets | |
| 10 ml bucket for tubes 17 x 70 mm | |
| 15 ml bucket for tubes 17 x 100 mm | |
| 8 place swing out rotor without buckets | |
| 10 ml bucket for tube 13 x 100 mm | |
| 15 ml bucket for tube 17 x 100 mm | |
| 6 x 85 ml high speed angle rotor | |
| Insert for 1 x 50 ml tube 29 x 105 mm (inc. 50 ml Oakridge) | |
| Insert for 1 x 30 ml tube 26 x 95 mm (inc. 30 ml Oakridge) | |
| Insert for 2 x 10 ml tubes 16 x 75mm | |
| Suspension 1 x 1.6 - 6 ml | |
| Suspension 1 x 4 - 10 ml | |
| Insert for 4 microtubes | |
| Insert for I tube 16-17 x 75-100 mm | |
| Insert for 1 x 50 ml Falcon tube | |
| Insert for 1 x 15 ml Falcon tube | |
| Insert for 1 x 75 ml tube 35 x 105 mm | |
| Modification kit for 6 x 50ml Falcon tubes in rotors 1620 and 4315 | |
| Rolling cabinet for Hettich centrifuge, low and narrow with one drawer, sturdy design... | |
| 12 x 15 ml angle rotor | |
| Adapter for tubes with Hemogard-cap | |
| Adapter for 4 - 7 ml Urine tubes | |
| Adapter, PP, 4 ml for glass tubes 10 x 88 mm | |
| | |