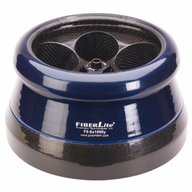 F8S-6x1000y
76641
Comptible with Evolution RC centrifuges, 8000 RPM, 14049 xg
Details
Catalog No. 096-061108
Model F8S-6x1000y
Max. Speed 8000
Max. g-force 14049
k factor 5096
Rotor Mass 15.19 kg (35.68 lbs.)
Liquid Containment Yes
Warranty: 15 Years
Will Replace SLC-6000
Will Spin In Evolution RC
Rmax 127
Rmin 54
Application This general purpose rotor can be used for extra large volume processing of particulate materials and debris in solutions as well as for bacteria and mammalian cells from cell cultures and subcellular organelles from tissue homogenates.
Refresher Kit 021-061108
Extraction Tool 017-061108
Lid O-rings 022-061108
Lid Assembly 099-061108
Compatible with: Sorvall Evolution RC
Availability
New price
£17540.00
Manufacturer's list price. Please call our sales office for potential discounts that may apply.
Accessories for F8S-6x1000y
| | |
| --- | --- |
| | |
| | |
| | |
| | |
| | |
| | |
| | |
| | |
| | |
| | |
| | |
| | |
| | |
| | |
| | |
| | |
| | |
| 50ml Conical Sterile Polypropylene Centrifuge Tube With Screw Cap (Pack of 20) | |