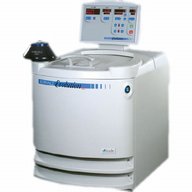 Sorvall Evolution RC
728411
Employing leading-edge technology, the Evolution® RC offers unmatched productivity with a six liter capacity, speeds to 26,000 rpm, and simplified sample handling. The bottom line is shorter processing times with more throughput – and of course, maximum SORVALL® reliability.
Details

FIBERLite Rotors are up to 65% lighter, do not corrode or fatigue and have a lifetime warranty.
Equivalents for:
SLC-6000, SLC-4000, GS-3, SLA-3000, SLC-3000, GSA, SLA-1500, SLC-1500, SA-600, SLA-600TC, SS-34 and exclusives.
Listed below is the complete range of FIBERLite Rotors available for the Sorvall Evolution RC Centrifuge.
This item is not sold by DJB Labcare Ltd and is provided for information purposes only.
Features
Refrigeration
Availability
Available as New
Please call our sales office or request a quote online for pricing/discount information.
Accessories for Sorvall Evolution RC
| | |
| --- | --- |
| Compatible with RC2, RC5, RC6, RC26, Evolution RC centrifuges 13,000 RPM, 28,960xg | |
| Compatible with RC2, RC5, RC6, RC26, Evolution RC centrifuges, 14000 RPM, 30074 xg | |
| Compatible with RC2, RC5, RC26, Evolution RC centrifuges, 20000 RPM, 43904 xg | |
| Compatible with RC2,RC5,RC6,RC26,Evolution RC centrifuges, 21,000 RPM, 52,356xg | |
| Compatible with RC2, RC5, RC26, Evolution RC centrifuges, 21000 RPM, 46428 xg | |
| Comptible with Evolution RC centrifuges, 8000 RPM, 14049 xg | |
6 accessories