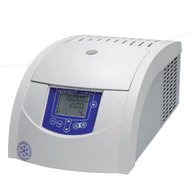 Sigma 1-14K
10020
High speed small-footprint refrigerated microlitre centrifuge includes 24 x 1.5/2ml rotor. 2 Year Warranty
The Sigma 1-14K is the refrigerated version of the highly popular Sigma 1-14 subsequently all rotors are interchangeable between the two. It has an ultra efficient cooling and pre-cool system maintaining 4 C at top speed which many equivalent models do not, this refrigerated microfuge is currently the narrowest on the market allowing it to conserve valuable bench space.
Details
Bright LCD - Display

Large capacity 24 x 1,5 – 2,2 ml

Topspeed 15.000 rpm = 16.602 x g

Minimum 200 rpm = 2 x g

Short acceleration and deceleration

Low temperature increase during run

Easy handling, big buttons

Short- and continuous run, 99 min. timer

Two acceleration and deceleration curves

Motorized lid lock

Maintenance-free induction drive motor

RoHS conform

Stainless steel bowl

Rapid cooling program

10 programmes

Refrigerant R134a ( CFC-free )

Temperature setting range -10-+40 °C
Features
Refrigeration
Typical capacities
24 x Microlitre 0.2-2ml
Availability
Available as New
Please call our sales office or request a quote online for pricing/discount information.
Accessories for Sigma 1-14K
| | |
| --- | --- |
| Microhematocritrotor incl. lid, suitable for 24 capillary tubes Ø 1.4 x 50 mm, 35 ?l no.... | |
| Capillary tubes, heparinized, 35µl, Ø 1.4 x 50 mm, 200 pcs. per pack | |
| | |
| | |
| Angle rotor 12 x 1.5/2.2 ml, for reaction vials e.g. no. 15008, 15040, incl. polysulfone... | |
| Microtube 1.5ml yellow (pack of 5000) | |
| Microtube 1.5ml blue (pack of 5000) | |
| Microtube 1.5ml green (pack of 5000) | |
| Microtube 1.5ml pink (pack of 5000) | |
| Microtube 1.5ml Twist Lock (pack of 5000) | |
| Microtube 2.0ml Polypropylene (pack of 500) | |
| Microtube 1.5m threaded and not skirted (pack of 500) | |
| Cap with integral O ring for above (pack of 500) | |
| Polysulfone lid for angle rotors of Sigma 1-14 | |
| Angle rotor 18 x 1.5/2.2 ml, for reaction vials e.g. no. 15008, 15040 or 18 x 0.25/0.4 ml... | |
| Angle rotor 24 x 1.5/2.2 ml, reaction vials e.g. no. 15008, 15040, incl. polysulfone lid... | |
| Angle rotor made of polypropylene, 12 x 1.5/2.2 ml, for reaction vials e.g. no. 15008,... | |
| Angle rotor made of polypropylene, 18 x 1.5/2.2 ml, for reaction vials e.g. no. 15008,... | |
| Angle rotor made of polypropylene, 24 x 1.5/2.2 ml, for reaction vials e.g. no. 15008,... | |
| Adapter for reaction vials 0.25/0.4 ml no. 15014 (Set of 2) | |
| | |
| Microtube 0.4ml Beckman (pack of 1000) | |
| Microtube 0.5ml RNAse free (pack of 1000) | |
| Microtube 0.5ml RNAse free (pack of 1000) | |
| Adapter for 0.5-0.75ml PCR tubes (Set of 2) | |
| | |
| Adapter for PCR-tube 0.2 ml, e.g no. 15042 (Set of 2) | |
| 100 pcs. per pack | |
| Professional Flight Case for safe and easy transportation | |
| Angle rotor made of polypropylene, for 2 PCR-strips with 8 tubes 0.2 ml e.g no. 15042,... | |