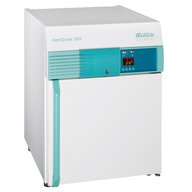 Hettich HettCube 200R
62005
150 Litre Incubator
Details
The new HettCube range of incubators brings cost savings and benefits the environment: HettCube incubators provide optimum conditions for the growth of cultures with an exceptionally low power consumption.
HettCube incubators have low noise levels, helping to create a pleasant working environment.

HettCube incubators not only meet the demanding requirements of our customers, they also benefit the environment. HettCube incubators are eco-friendly, user-friendly and of the highest quality.

These incubators are available in different capacities, with and without cooling.
Availability
New price
£5515.00
Manufacturer's list price. Please call our sales office for potential discounts that may apply.
Accessories for Hettich HettCube 200R
| | |
| --- | --- |
| USB converter incl. connecting cable and Software for programming and data logging... | |
| Ethernet converter incl. connecting cable and Software for programming and data logging... | |
| Software for programming and data logging for up to 60 days (replace cat.-no. EB0014) | |
| Additional, independent, flexible PT 100 sensor (4-wire) for the temperature datas with... | |
| Additional, independent, felxible Object temperature sensor PT 100 (4-wire) with a ... | |
| Object temperature display with flexible, additional, independent PT 100 sensor (4-wire),... | |
| EU-Internal socket Schuko IP54 (230V), max. load 400W without earth leakage circuit... | |
| UK-Internal socket BS 1363, IP54, max. load 400W without earth leakage circuit breaker | |
| CH-Internal socket SEV 1011, IP54, max. load 400W without earth leakage circuit breaker | |
| US-Internal socket NEMA 5-15 R, IP54, max. load 400W without earth leakage circuit breaker | |
| EU-Internal socket Schuko IP54 (230V), max. load 400W with earth leakage circuit breaker... | |
| UK-Internal socket BS 1363, IP54, max. load 400W with earth leakage circuit breaker (10mA) | |
| CH-Internal socket SEV 1011, IP54, max. load 400W with earth leakage circuit breaker... | |
| US-Internal socket NEMA 5-15 R, IP54, max. load 400W with earth leakage circuit breaker... | |
| Additional internal socket outlet, only available in combination with one of the eight... | |
| High-quality single glass door , size 200 | |
| Shelf (stainless steel) with guide rails of stainless steel (standard shelf) | |
| HTS shelf (stainless steel) with telescopic rails, pull out up to 70%, max. load 40 kg | |
| HTS drawer (stainless steel) with telescopic rails, pull out up to 70%, max. load 40 kg,... | |
| HTS drawer (stainless steel) with telescopic rails, pull out up to 70%, max. load 40 kg,... | |
| HTS drawer (stainless steel) with telescopic rails, pull out up to 70%, max. load 40 kg,... | |
| Hettich Rack L, 16 tubes, length 100 - 125 mm, Ø 15 - 20mm for slant angles 5° and 20°,... | |
| Hettich Rack XL, 16 tubes, length 126 - 170 mm, Ø 15 - 20mm for slant angles 5° and 20°,... | |
| Bushing on the left side of incubator, Ø 22 mm | |
| Bushing on the left side of incubator, Ø 67 mm | |
| Stacking kit for the safe stacking of two HettCube model 200 or 200R units on top of each... | |
| HTS shelf (stainless steel) with telescopic rails, pull out up to 70%, max. load 40 kg | |
| HTS drawer (stainless steel) with telescopic rails, pull out up to 70%, max. load 40 kg,... | |
| HTS drawer (stainless steel) with telescopic rails, pull out up to 70%, max. load 40 kg,... | |
| HTS drawer (stainless steel) with telescopic rails, pull out up to 70%, max. load 40 kg,... | |
| Rolling cabinet for a HettCube model 200 or 200R | |
| Shaker HSM 10 Set 1, consists of orbital shaker HSM 10 plus universal platform with 5... | |
| Shaker HSM 10 Set 2, consists of orbital shaker HSM 10 plus platform with antislip mat | |
| Shaker HSM 10 Set 3, consists of orbital shaker HSM 10 plus plattfom for Erlenmeyer... | |
| Clamp for Erlenmeyer flask 50 ml, 1 pc. | |
| Clamp for Erlenmeyer flask 100 ml, 1 pc. | |
| Clamp for Erlenmeyer flask 250 ml, 1 pc. | |
| Clamp for Erlenmeyer flask 500 ml, 1 pc. | |
| Clamp for Erlenmeyer flask 1000 ml, 1 pc. | |
| Clamp for Erlenmeyer flask 2000 ml, 1 pc. | |