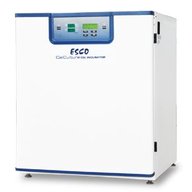 CelCulture® Incubator, 170L, IR sensor, CO2 control, O2 control with integrated cooling system, Moist Heat Decon, Peltier System, 230VAC, 50/60 Hz
CCL-170-T-8-P
Esco CelCulture® CO2 Incubator with Integrated Cooling System provides solution for highly specialized application. The integrated cooling system allows studies of samples that requires temperature at/or below ambient temperature.
Details
Key features
Wider Temperature Range
Temperature range of 12°C below ambient to 60°C above ambient means wider range of applications.
Highly Efficient, Environmentally Friendly Peltier Cooling System
This provides precise heating and cooling inside the chamber making sure that your samples are safe from temperature changes.
Complete Contamination Control Methods
90 °C validated moist heat decontamination cycle

ULPA filter

ISOCIDE® anti-microbial coating

0.2 micron in-line filter
O2 Sensor
• Long life
• Stable output signal
• Not affected by CO2 concentration inside the chamber
Technical Specification
Volume 170 litre (5.7 cu.ft)

Temperature Range Ambient: 18 to 34°C (64 to 93 °F)z

Temperature Control method: Direct Heat and Air Jacketed with Peltier Cooling System using PID microprocessor

Temperature range: 12°C below ambient to 60°C above ambient

O2 Range, % CO2: 1-20.7

O2 Sensor: Galvanic Cell Type

Start-up Time at 5% O2, (minutes): 14

Recovery Time at 5% O2, (minutes): 12

Number of Shelves (standard)- 4

Maximum load per shelf (kg)- 11

External dimensions (W x D x H) (mm)- 660 x 672 x 900

Internal Dimensions (W x D x H) (mm)- 505 x 530 x 635

Weight (kg)- 105
Availability
Available as New
Please call our sales office or request a quote online for pricing/discount information.
Accessories for CelCulture® Incubator, 170L, IR sensor, CO2 control, O2 control with integrated cooling system, Moist Heat Decon, Peltier System, 230VAC, 50/60 Hz
| | |
| --- | --- |
| Electronic CO2 Analyser (worldwide), for CO2/temperature measurement (without temperature... | |
| Voyager software kit | |
| | |
| (intro, product box text) | |
| | |
| | |
| | |