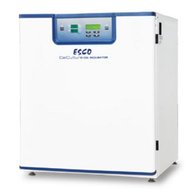 CelCulture® Incubator, 50L, IR sensor, CO2 Control, Moist Heat Decon, Water Jacketed, 230VAC, 50/60 Hz
CCL-050B-8-WJ
Esco CelCulture® Water-Jacketed CO2 Incubator provides a very stable environment to grow and maintain cell cultures.
Details
Water-Jacketed CO2 Incubator can maintain temperature by surrounding the chamber by hot walls generated from the heated water. The heated water circulates and radiates heat around the inner chamber which maintains constant temperature.
Water-Jacketed CO2 Incubator can hold the chamber temperature much longer when power is lost. The CO2 incubator will also be able to recover temperature much faster after power failure as it also gets back more quickly as temperature settings change due to frequent opening of the door.
Key features
More Stable Temperature Control
Faster temperature recovery times after power outage and door openings.

Better temperature uniformity
Increased Security
*Hold a set temperature inside the chamber much longer than air-jacketed units in the event of power failure.
Complete Contamination Control Methods
ULPA filter

0.2 micron inline filter

ISOCIDETM antimicrobial coating.

90°C Moist Heat Decon Cycle (water in the external chamber needs to be drained first)
Convenience
The unit is equipped with a fill-in port to place water and a drain valve to facilitate faster depletion of water when cleaning, before decon cycle or before transporting the equipment.
Easy Monitoring
Water level can be check via the water level sensor.
CO2 Sensor
• IR Sensor
• Single-beam, dual-wavelength IR sensor is drift-free
• Auto-zeroing
Technical Specification
Volume: 50 litre (1.8 cu.ft)

Temperature Range Ambient:18 to 34°C (64 to 93°F)

Temperature Control method: Direct Heat and Water Jacketed using PID microprocessor

Temperature range: Ambient +3°C to 60°C

CO2 Range, % CO2: 0-20

CO2 Sensor: Infrared (IR) Sensor

Recovery Time at 5% CO2, (minutes): 8

Number of Shelves (standard)- 2

Maximum load per shelf (kg)- 4

Water jacket volume (L)- 10

External dimensions (W x D x H) (mm)- 500 x 500 x 705

Internal Dimensions (W x D x H) (mm)- 345 x 375 x 390

Weight (kg)- 75 (no water)
Availability
Available as New
Please call our sales office or request a quote online for pricing/discount information.
Accessories for CelCulture® Incubator, 50L, IR sensor, CO2 Control, Moist Heat Decon, Water Jacketed, 230VAC, 50/60 Hz
| | |
| --- | --- |
| Electronic CO2 Analyser (worldwide), for CO2/temperature measurement (without temperature... | |
| Voyager software kit | |
| | |
| | |
| (intro, product box text) | |
| | |
| | |
| | |