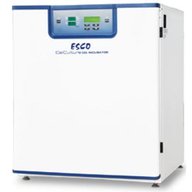 Celculture® Incubator, 50L, IR sensor, CO2 & O2 control, Moist Heat Decon, 230VAC, 50/60 Hz
CCL-050T-8
Sleek, reliable and intuitive, Esco CelCulture® CO2 incubators provide all-rounded sample protection that brings your scientific dreams one step closer to reality.
Details
ESCO CelCulture CO2 incubators are widely used in scientific research to grow and maintain cell cultures. Typical fields of application include tissue engineering, in vitro fertilization, neuroscience, cancer research, stem cell research, regenerative medicine, and other mammalian cell research.
O2 Sensor
• Long life
• Stable output signal
• Not affected by CO2 concentration inside the chamber
Technical Specification
Volume (L): 50L (1.8 cu. ft)

Temperature range (°C): Amb. +3 to 60

Temperature recovery time (minutes): 4

Ambient temperature range (°C): 15 to 34

O2 range (%): 0-20.7

O2 Sensor: Galvanic Cell Type

O2 recovery time at 1% O2 (minutes): 10

External dimensions (W x D x H) (mm): 500 x 500 x 655

Internal dimensions (W x D x H) (mm): 345 x 375 x 390

Weight (kg): 70
Availability
Available as New
Please call our sales office or request a quote online for pricing/discount information.
Accessories for Celculture® Incubator, 50L, IR sensor, CO2 & O2 control, Moist Heat Decon, 230VAC, 50/60 Hz
| | |
| --- | --- |
| Electronic CO2 Analyser (worldwide), for CO2/temperature measurement (without temperature... | |
| Voyager software kit | |
| | |
| | |
| (intro, product box text) | |
| | |
| | |
| | |