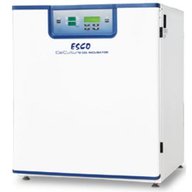 CelCulture® Incubator 170L IR Sensor, CO2 Control ULPA, Moist Heat Decon 230VAC 50/60HZ 100% copper chamber
CCL-170B-8-CU
Sleek, reliable and intuitive, Esco CelCulture CO2 incubators provide all-rounded sample protection that brings your scientific dreams one step closer to reality.
Details
Key Features
ULPA Filter
• 99.999% efficient, superior to conventional HEPA filters
• Filters air continuously
• Chamber returns to ISO Class 5 cleanliness in 13 minutes upon door closing to prevent contamination
Shelving
• Perforated shelving to improve uniformity
• Anti-tip
• Stainless steel
• Built-in grip
• Dismantles without tools for easy cleaning
Direct Heat & Air Jacket
• Fast and uniform heating
• Rapid temperature recovery without overshoot
• Air jacket improves chamber stability
Duct Work
• Directs air flow for rapid recovery and excellent uniformity
• Easily removed for cleaning
CO2 Sensor
• IR Sensor
• Single-beam, dual-wavelength IR sensor is drift-free
• Auto-zeroing
Technical Specification
Volume (L): 170L (5.7 cu. ft)

Temperature range (°C): Amb. +3 to 60

Temperature recovery time (minutes): 6

Ambient temperature range (°C): 18 to 34

CO2 range (%): 0-20

CO2 Sensor: Infrared (IR) Sensor

CO2 recovery time (minutes): 4

External dimensions (W x D x H) (mm): 660 x 660 x 900

Internal dimensions (W x D x H) (mm): 505 x 530 x 635

Weight (kg): 120
Availability
Available as New
Please call our sales office or request a quote online for pricing/discount information.
Accessories for CelCulture® Incubator 170L IR Sensor, CO2 Control ULPA, Moist Heat Decon 230VAC 50/60HZ 100% copper chamber
| | |
| --- | --- |
| Electronic CO2 Analyser (worldwide), for CO2/temperature measurement (without temperature... | |
| Voyager software kit | |
| | |
| | |
| (intro, product box text) | |
| | |
| | |
| | |