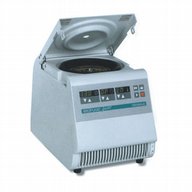 Heraeus Biofuge Fresco
75005521
The compact refrigerated Biofuge Fresco microlitre centrifuges creates space in the laboratory. Even at maximum speed they operate extremely quietly. Short acceleration and braking times ensure rapid sample processing.
Details
High performance
The brushless induction motor of the Fresco is extremely efficient. In 15 seconds, it accelerates the rotor to its maximum RCF of 16,060xg, which is sufficient for all standard applications. A "quick run" key is used for short processing runs.
Whisper-quiet
The Fresco is a valuable aid in the small laboratory, where noise can be an issue and ensures whisper-quiet operation even at maximum speed.
Small footprint
Create space in your laboratory. Take advantage of the small footprint of the compact Biofuge Fresco, which can be integrated into any workplace. The low height of the Fresco casing makes it easier to load the rotor.
Biocontainment capabilities
The Biofuge Fresco is provided with both a snap-on lid and a biocontainment lid, which provides an effective seal against hazards, and which has been certified for biocontainment by the Centre for Applied Microbiology and Research at Porton Down, U.K.
Features
Refrigeration
Typical capacities
24 x Microlitre 0.2-2ml
Availability
Not currently available
Accessories for Heraeus Biofuge Fresco
| | |
| --- | --- |
| PCR Strip Rotor Max volume - 4 x 8 sample 0,2ml PCR strips (or 32 samples each) Max... | |
| Microlitre rotor24 x 1.5/2 ml complete with biosafe aerosol tight twist on lid | |
| Biosafe lid, aerosol tight, for rotor 75003328 | |
| REDUCTION SLEEVE SET FOR 0,5ML | |
| Microtube 0.4ml Beckman (pack of 1000) | |
| Microtube 0.5ml RNAse free (pack of 1000) | |
| Microtube 0.5ml RNAse free (pack of 1000) | |
| REDUCTION SLEEVE SET FOR 0,25ML | |
| REDUCTION SLEEVE SET FOR 0,2ML PCR | |
| Replacement o-rings including grease | |
| Grease for O-rings | |
| | |
| Biosafe screw on lid aerosol tight, for rotor 75003325 & 75007599 | |
| Clip on lid, for rotor 75003325 | |