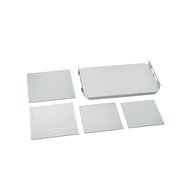 Universal Platform
AAA3A501
This universal platform provides flexibility for mixing different size test tubes and glassware on a single platform. Various sizes of clamps for Erlenmeyer flasks and separating funnels are available.
Details
Compatible with: OS-2000 Open Air Shaker- Dual Action
Availability
New price
£195.70
Manufacturer's list price. Please call our sales office for potential discounts that may apply.
Accessories for Universal Platform
| | |
| --- | --- |
| Mountable flask clamp for 50ml Erlenmeyer flasks | |
| Mountable flask clamp for 100ml Erlenmeyer flasks | |
| Mountable flask clamp for 250ml Erlenmeyer flasks | |
| Mountable flask clamp for 300ml Erlenmeyer flasks | |
| Mountable flask clamp for 500ml Erlenmeyer flasks | |
| Mountable flask clamp for 1000ml Erlenmeyer flasks | |
| Mountable flask clamp for 2000ml Erlenmeyer flasks | |
| Mountable flask clamp for 2800ml Erlenmeyer flasks | |
| Mountable flask clamp for 4000ml Erlenmeyer flasks | |
| Mountable flask clamp for 6000ml Erlenmeyer flasks | |
| Mountable funnel clamp for 250ml separating funnels | |
| Mountable funnel clamp for 500ml separating funnels | |
| Mountable funnel clamp for 1000ml separating funnels | |
| Highly durable stainless steel rack for 86 x 8mm diameter tubes. Adjustable angle and... | |
| Highly durable stainless steel rack for 86 x 10mm diameter tubes. Adjustable angle and... | |
| Highly durable stainless steel rack for 58 x 12mm diameter tubes. Adjustable angle and... | |
| Highly durable stainless steel rack for 58 x 14mm diameter tubes. Adjustable angle and... | |
| Highly durable stainless steel rack for 32 x 16mm diameter tubes. Adjustable angle and... | |
| Highly durable stainless steel rack for 19 x 25mm diameter tubes. Adjustable angle and... | |
| Tower type microplate holder | |
| Small, flat microplate holder, will take 3 standard or deep well plates | |
| Single type microplate holder for 1 standard or deep well plate | |
| Large, flat microplate holder, will take 4 standard or deep well plates | |
| Lab Sticker | |