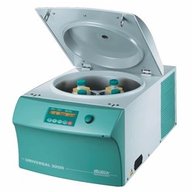 Hettich Universal 320R
C1406
Medium Bench Centrifuge
Details
The Universal 320R offers extremely short run-up and run-down times, even on rotors up to 21,382 RCF. For maximum versatility the Universal 320 will process standard tubes up to a volume of 100ml, microtitre plates, conical tubes with screw cap, blood collection tubes and cyto accessories.
Safety features include automatic lid locking with emergency release,imbalance switch-off,metal housing and overheating protection Users benefit from quick entry keypad and easily exchangeable rotors

Existing Hettich users can also use rotors from the existing Universal 32 range

Uniquely designed refrigeration unit at the rear of the centrifuge significantly reduces the bench space required
Features
Refrigeration
Typical capacities
28 x Blood tube 4-7mm (13mm)
20 x Blood tube 7-10ml (16mm)
12 x Conical 15ml
8 x Conical 50ml
4 x Universal 25ml
4 x 96 well microplate
Availability
New price
£7397.00
Manufacturer's list price. Please call our sales office for potential discounts that may apply.
Accessories for Hettich Universal 320R
| | |
| --- | --- |
| 4 place swing out rotor | |
| 100 ml metal bucket | |
| Insert for 7 tubes 14 x 100 mm | |
| Insert for 36 tubes 6 x 45 mm | |
| Insert for 14 tubes 10 x 60 mm | |
| Insert for 12 tubes 12 x 82 mm | |
| Insert for 2 x 25ml tubes | |
| Insert for 1 x 50 ml tube 34 x 100 mm | |
| Insert for 1 x 100 ml tube 44 x 100 mm | |
| Insert for 7 blood collection tubes 12 x 81-105 mm | |
| Insert for 4 blood collection tubes 16 x 57-92 mm | |
| Insert for 7 blood collection tubes 16 x 81 mm | |
| Insert for 1 x 50 ml Falcon tube | |
| U' Well Microtitration plate (pack of 100) | |
| F' Well Microtitration plate (pack of 50) | |
| V' Well Microtitration plate (pack of 100) | |
| Lid for Microtitre plates (pack of 50) | |
| Insert for 9 microtubes | |
| Insert for skirted 50 ml Falcon tubes | |
| | |
| Rectangular sealable metal bucket | |
| Insert for 12 tubes 10 x 60 mm | |
| Insert for 30 tubes 6 x 45 mm | |
| Insert for 8 blood collection tubes 13 x 75-100 mm | |
| Insert for 12 blood collection tubes 11 x 66 mm | |
| Insert for 12 blood collection tubes 11 x 92 mm | |
| Insert for 6 blood collection tubes 16 x 100 mm | |
| Insert for 2 tubes 24 x 100 mm | |
| Insert for 1 tubes 34 x 100 mm | |
| Insert for 6 tubes 17 x 100 mm | |
| Insert for 5 blood collection tubes 17 x 75-92 mm | |
| Insert for 1 x 15ml Falcon tube | |
| Insert for 1 x 50 ml Falcon tube | |
| 15ml Graduated centrifuge with screw cap (pack of 500) | |
| Insert for 9 x 1.5-2.2 ml microtubes | |
| Microtube 1.5ml' flat top' (pack of 1000) | |
| Microtube 1.5ml yellow (pack of 5000) | |
| Microtube 1.5ml blue (pack of 5000) | |
| Microtube 1.5ml green (pack of 5000) | |
| Microtube 1.5ml pink (pack of 5000) | |
| Microtube 1.5ml Twist Lock (pack of 5000) | |
| Microtube 2.0ml Polypropylene (pack of 500) | |
| Microtube 1.5m threaded and not skirted (pack of 500) | |
| Cap with integral O ring for above (pack of 500) | |
| Insert for 5 blood collection tubes 15 x 75-92 mm | |
| Insert for 12 blood collection tubes 8 x 66 mm | |
| Insert for 2 x 25/30ml conical Falcon | |
| 30ml Universal tubes, no label - polystyrene (pack of 400) | |
| 30ml Universal tubes, no label - Polypropylene (pack of 400) | |
| 30ml Universal tubes, printed label - Polypropylene (pack of 400) | |
| 30ml Universal tubes, plain label - Polystyrene (pack of 400) | |
| 30ml Universal tubes, with spoon, label - Polypropylene (pack 400) | |
| 30ml Universal tubes, with boric acid, no label - Polypropylene (pack of 400) | |
| 30 ml Universal, labelled - Polystyrene (pack of 400) | |
| Sealing Lid for bucket A1427 | |
| Carriers for A1494 and A4754 Rotor | |
| Insert for 4 tubes 15-17 x 91-105 mm | |
| Rubber pad for 15 ml carriers | |
| Insert for 1 x 25 ml tube (inc. plastic Universals) | |
| Insert for 1 x 50 ml tube 34 x 100 mm | |
| Insert for 27 tubes 6 x 45 mm | |
| Insert for 9 tubes 10 x 52-60 mm | |
| Insert for 1 x 15 ml Falcon tube | |
| Insert for 4 tubes 16 x 75 / 100 | |
| Insert for 5 microtubes | |
| Insert for 1 x tube 25 x 110mm | |
| Insert for 5 tubes 13 x 75-105 mm | |
| Insert for 1 x 50 ml Falcon tube | |
| 50ml Conical Sterile Polypropylene Centrifuge Tube With Screw Cap (Pack of 500) | |
| 50ml Conical Sterile Polypropylene Centrifuge Tube With Screw Cap (Pack of 20) | |
| Insert for 1 x 85 ml tube 38 x 101 mm | |
| Insert for 4 blood collection tubes 15 x 75-92 mm | |
| Insert for 1 tube 29 x 107 mm | |
| Insert for 1 tube 26 x 95 mm | |
| Insert for 1 x 50 ml Skirted Conical Tube | |
| Rubber pad for 100 ml tubes | |
| Rubber insert for chrome bath tubes 0534 | |
| Insert for 7 tubes 8 x 66 mm | |
| Insert for 1 x tube 25 x 90mm | |
| Insert for 1 x 12ml conical skirted tube | |
| Lid for A1481, A1490 and A1495 Carriers | |
| O rings for 1492 lids (set of 4) | |
| 4 place swing out rotor | |
| Plastic bucket for 45 ml tube 31 x 100 mm | |
| Plastic bucket for 2 x 20 ml tubes 21 x 100 mm | |
| Plastic bucket for 4 x 15 ml tubes 17 x 100 mm | |
| Plastic bucket for 5 x 9 ml tubes 14 x 100 mm | |
| Plastic bucket for 17 x 5 ml tubes 13 x 75 mm | |
| Plastic bucket for 10 tubes 8-14 x 66-100 mm | |
| Plastic pad for 8 ml tubes | |
| Plastic bucket for 7 tubes 13-17 x 75-120 mm | |
| Insert for 2 x 25 ml tubes 25 x 92-100 mm | |
| Insert for 1 x 50ml tube 34 x 100 mm | |
| Rectangular bucket | |
| Insert for 12 tubes 12 x 60 mm | |
| | |
| Double stage insert for cyto slide carriers | |
| Does not include the Angled chamber and Filter card | |
| | |
| Pack of 200 Filter cards for 1,2 and 4ml Cyto chambers. | |
| Filter cards for 1ml, 2ml and 4ml cyto chambers. | |
| | |
| | |
| | |
| Filter cards for 8ml cyto chamber. | |
| Filter cards for 8ml cyto chamber. | |
| | |
| Filter cards for 3 x 2ml cyto chamber. | |
| Filter cards for 3 x 2ml cyto chamber. | |
| | |
| Filter cards for 4 x 1ml cyto chamber. | |
| Filter cards for 4 x 1ml cyto chamber. | |
| | |
| For bucket A1660 | |
| Carrier for A1624 Rotor | |
| 4 place swing out rotor | |
| 100ml round bucket for rotor A1324 | |
| Insert for 4 x 15ml tubes | |
| Insert for 4 x 15ml Falcon tubes | |
| Insert for 1 x 50ml skirted Falcon tube | |
| Adapter in suspension 1398 f. 5 x 1,6 - 7 ml tubes | |
| Adapter f. KOVA-urine tubes 3 x 12 ml in bucket A1398 | |
| Carriers for A1324 Rotor | |
| Insert for 3 x 15 ml Falcon tubes (for bucket 1390 without sealing cap A1382) | |
| 6 place swing out rotor for Falcon tubes, with carriers | |
| Insert for 15 ml Falcon tube | |
| 8 place swing out rotor for Falcon tubes | |
| 12 place swing out rotor without buckets | |
| 10 ml bucket for tubes 17 x 70 mm | |
| 15 ml bucket for tubes 17 x 100 mm | |
| 8 place swing out rotor without buckets | |
| 10 ml bucket for tube 13 x 100 mm | |
| 15 ml bucket for tube 17 x 100 mm | |
| Swing out rotor for microtitre plates - without carriers A1453 | |
| Carrier for microtitre plates on rotor A1460 | |
| | |
| 4 place rotor for microtitre plates without carriers | |
| 12 place high speed angle rotor with lid for microtubes | |
| Adapter 1-place for microlitre tubes 0.5/0.8 ml (6 pcs.) | |
| Microtube 0.4ml Beckman (pack of 1000) | |
| Microtube 0.5ml RNAse free (pack of 1000) | |
| Microtube 0.5ml RNAse free (pack of 1000) | |
| Adapter 1-place for microlitre tubes 0.2/0.4 ml (6 pcs.) | |
| Adapter 1-place for microlitre tubes 1.5 ml (6 pcs.) | |
| 30 place high speed angle rotor with sealing lid for microtubes | |
| Pediatric tube adapter | |
| 6 x 85 ml high speed angle rotor | |
| Insert for 1 x 50 ml tube 29 x 105 mm (inc. 50 ml Oakridge) | |
| Insert for 1 x 30 ml tube 26 x 95 mm (inc. 30 ml Oakridge) | |
| Insert for 2 x 10 ml tubes 16 x 75mm | |
| Suspension 1 x 1.6 - 6 ml | |
| Suspension 1 x 4 - 10 ml | |
| Insert for 4 microtubes | |
| Insert for I tube 16-17 x 75-100 mm | |
| Insert for 1 x 50 ml Falcon tube | |
| Insert for 1 x 15 ml Falcon tube | |
| Insert for 1 x 75 ml tube 35 x 105 mm | |
| Modification kit for 6 x 50ml Falcon tubes in rotors 1620 and 4315 | |
| Rolling cabinet for Hettich centrifuge, high and narrow, sturdy design featuring castors... | |
| Rolling cabinet for Hettich centrifuge, low and narrow with one drawer, sturdy design... | |
| 12 x 15 ml angle rotor | |
| Adapter for tubes with Hemogard-cap | |
| Adapter for 4 - 7 ml Urine tubes | |
| Adapter, PP, 4 ml for glass tubes 10 x 88 mm | |
| | |
| 24 Place Haematokrit Rotor | |
| 2000 self-sealing heparinized capillaries 1.4 x 75 mm | |
| 1000 heparinized capillaries 1.4 x 75 mm | |
| | |
| 12 x 15 ml angle rotor | |
| Adapter 1-place for 1,5-2,0 ml tubes, Pediatric-tubes , BD-Microtube, set of 6 pcs. | |
| Adapter 1-place for 5 ml tubes, conical, fitting into rotor 1015 | |
| Adapter set 6-place f. tubes, conical 15 ml (Falcon type) in rotor 1615 | |
| Disc rotor 8-place for UNIVERSAL 320/320R and ROTOFIX 32A | |
| Insert for 4 x 12-15ml tubes in rotor A1721 | |
| Insert for 1 x 50ml tube in rotor 1418 | |
| Professional Flight Case for safe and easy transportation | |
| 4 place swing out rotor | |
| 200 ml metal bucket | |
| | |
| | |
| | |
| | |
| | |
| | |
| | |
| | |
| | |
| | |
| | |
| | |
| | |
| | |
| | |
| | |
| | |
| | |
| | |
| | |
| | |
| | |
| | |
| | |
| Cyto rotor 12 Place | |
| Clip for cyto chambers (Set of 4 pcs.) | |
| Cyto-chamber with white filter card f. 0.5 ml (50 pcs.) | |
| Cyto-chamber with white filter card f. 0.5 ml (500 pcs.) | |
| CYTO-chamber with brown filter card f. 0.2 ml (PU: 50 pcs.) | |
| Cyto-chamber with seal f. 6 ml (50 pcs.) | |
| Cyto-chamber with seal f. 6 ml (500 pcs.) | |
| Cyto-chamber, reusable, f. 0.5 ml (12 pcs.) | |
| Filter card for Cyto-chamber no. 1538 (200 pcs.) | |
| Cyto-chamber, reusable, f. 6 ml (12 pcs.) | |
| Seal for Cyto-chamber no. 1536 (100 pcs.) | |
| | |
| Stand for rotor 1520 | |
| Angle rotor 24-place for 1.5/2.0 ml tubes | |
| Lid for rotors A2424, A2430 and A1420 (phenol resistant, aerosol tight and... | |
| Lid for rotors A2424, A2430 and A1420, (aerosol tight and autoclavable) | |
| | |