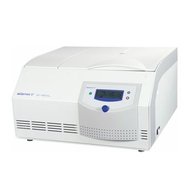 Sigma 3-16KL
10360
Laboratory centrifuge, refrigerated, for universal use
For the non-refrigerated version, please see the Sigma 3-16L
Details
This has replaced the Sigma 3-16K and 3-16PK.
Possibility of precooling the rotors during standstill; Refrigerant CFC-free (R 134 a)

Fast cooling program: Rapid temp

Guaranteed 4°C at max. speed with all rotors

Spincontrol L

Various angle and swing-out rotors available

Maximum capacity of 4 x 400 ml down to microtubes with different adapters in the same bucket

Maintenance-free induction drive motor

Magnetic rotor identification prevents the rotor from overspeeding, active rotor identification

Stainless steel bowl

Window in the lid for external speed control

Backlit keys for start, stop, lid open

Wearless electric fuse

Imbalance switch

Excess temperature cut-out for the motor

No need to open the casing for emergency lid lock release

Easy lid opening through pneumatic spring support through
Features
Refrigeration
Typical capacities
48 x Microlitre 0.2-2ml
28 x Blood tube 4-7mm (13mm)
12 x Blood tube 7-10ml (16mm)
12 x Conical 15ml
6 x Conical 50ml
8 x Universal 25ml
Availability
Available as New
Please call our sales office or request a quote online for pricing/discount information.
Accessories for Sigma 3-16KL
| | |
| --- | --- |
| Drum rotor for 6 cassettes no. 14000, 14002, 14020, 14021, for reaction vials (max.... | |
| Adapter for 0.2ml PCR Strips | |
| Adapter for 10 x 0.2-0.5ml PCR | |
| Microtube 1.5ml yellow (pack of 5000) | |
| Microtube 1.5ml blue (pack of 5000) | |
| Microtube 1.5ml green (pack of 5000) | |
| Microtube 1.5ml pink (pack of 5000) | |
| Microtube 1.5ml Twist Lock (pack of 5000) | |
| Microtube 2.0ml Polypropylene (pack of 500) | |
| Microtube 1.5m threaded and not skirted (pack of 500) | |
| Cap with integral O ring for above (pack of 500) | |
| Adapter for 20 x 0.25-0.4ml reaction vials | |
| Microtube 0.4ml Beckman (pack of 1000) | |
| Microtube 0.5ml RNAse free (pack of 1000) | |
| Microtube 0.5ml RNAse free (pack of 1000) | |
| Adapter for 10 x 01.5-2ml Reaction Vials | |
| Swing-out rotor for microtiter plates, incl. 2 carriers no. 13222, 3000 rpm, 1238 x g,... | |
| Angle rotor 10 x 10 ml, for tubes no. 13026, 15000, 15010, 15039, incl. hermetic... | |
| Includes screw cap. Ø 16.1 x 81.1 mm | |
| Incl. screw cap, Ø 16.1 x 81.1 mm | |
| Incl. screw cap, Ø 16.1 x 81.1 mm | |
| DJB bespoke adapters manufactured to suit your requirements ideal for specialist tubes | |
| Angle rotor 12 x 15 ml, for Greiner tubes, no. 15065, (Greiner no. 187261), Ø 17/22 x 95... | |
| Angle rotor, for 12 PCR-strips with 8 tubes 0.2 ml each e.g no. 15042, incl. hermetic... | |
| 100 pcs. per pack | |
| Angle rotor 30 x 1.5/2.2 ml, for e.g. reaction vials no. 15008, 15040, incl. hermetic... | |
| 100 pcs. per pack | |
| 100 pcs. per pack | |
| Adapter for reaction vials 0.25/0.4 ml no. 15014 (Set of 2) | |
| | |
| Adapter for 0.5-0.75ml PCR tubes (Set of 2) | |
| | |
| Adapter for PCR-tube 0.2 ml, e.g no. 15042 (Set of 2) | |
| Angle rotor 6 x 50 ml, for tubes no. 13055, 15051, 15052, 15054, incl. hermetic aluminium... | |
| | |
| Adapter for 15ml Glass tubes (Set of 2) | |
| Special glass tube 13.5ml, Ø 17 x 110 mm,max. allowable speed 7000 rpm | |
| Adapter for 30ml Glass tubes (Set of 2) | |
| Special glass tube 32ml, Ø 24 x 105 mm, max. allowable speed 7000 rpm | |
| Ø 28.5 x 101.5 mm, sealable with cap no. 17054 | |
| Stainless steel sealing cap | |
| 30ml Universal tubes, no label - polystyrene (pack of 400) | |
| 30ml Universal tubes, no label - Polypropylene (pack of 400) | |
| 30ml Universal tubes, printed label - Polypropylene (pack of 400) | |
| 30ml Universal tubes, plain label - Polystyrene (pack of 400) | |
| 30ml Universal tubes, with spoon, no label - Polypropylene (pack 400) | |
| 30ml Universal tubes, with boric acid, no label - Polypropylene (pack of 400) | |
| 30 ml Universal, labelled - Polystyrene (pack of 400) | |
| incl. screw cap, Ø 28.5 x 107 mm | |
| incl. screw cap, Ø 28.8 x 107 mm | |
| Angle rotor 24 x 1.5/2.2 ml, for e.g. reaction vials no. 15008, 15040, incl. hermetic... | |
| Angle rotor 4 x 80/85 ml, for tubes no. 13085, 15074, 15075, 15076, 15080, incl. hermetic... | |
| incl. screw cap, Ø 38 x 112 mm | |
| incl. screw cap, Ø 38 x 112 mm | |
| Ø 38 x 103 mm, sealable with cap no. 17185 | |
| Round stainless steel sealing cap | |
| Adapter for 1 culture tube 50 ml, e.g. no. 15151 | |
| Culture tube Nunc, 50 ml, pointed bottom, polypropylene, incl. screw cap | |
| 50ml Conical Sterile Polypropylene Centrifuge Tube With Screw Cap (Pack of 20) | |
| Adapter for 1 culture tube 15 ml, e.g. no. 15115 | |
| Culture tube Nunc, 15 ml, pointed bottom, polypropylene, incl. screw cap Ø 23 mm | |
| 15ml Graduated centrifuge with screw cap (pack of 500) | |
| Sold Individually | |
| Adapter for 1 tube 30 ml, max. Ø 25.5 x 90 - 100 mm, e.g. no. 15029, 15030, 15032 | |
| Incl. screw cap, | |
| Incl. screw cap, | |
| Incl. screw cap, | |
| Adapter, for 2 tubes 10 ml, Ø 16/17.5 x 75 - 90 mm, e.g. no. 15000, 15010, 15039 | |
| Ø 17 x 100 mm | |
| Rubber adapter for special glass tube 15 ml no. 15022 and for glass tube no. 15015 | |
| Rubber adapter for special glass tube 30 ml no. 15033 and for glass tube 25 ml no.... | |
| Angle rotor 8 x 50 ml, for tubes no. 13055, 15051, 15052, 15054, incl. hermetic aluminium... | |
| Angle rotor 20 x 10 ml, for tubes no. 13026, 15000, 15010, 15039, incl. hermetic... | |
| Angle rotor 6 x 30 ml, for tubes no. 15029, 15030, 15032, incl. hermetic aluminium lid | |
| Adapter for 10ml tubes (Set of 2) | |
| Angle rotor 6 x 80/85 ml, for tubes no. 13085, 15074, 15075, 15076, 15080, incl. hermetic... | |
| Swing-out rotor for 4 buckets no. 13180, 13190, 13194 | |
| Rectangular bucket, suitable for the system of rectangular carriers no. 18..., sealable... | |
| Rectangular carrier for 20 reaction vials 1.5/2.2 ml, max. Ø 11 mm, e.g. no. 15008,... | |
| Rectangular carrier for 12 tubes 6 - 7 ml, max. Ø 13.5/18 x 65 - 90 mm, e.g... | |
| Rectangular carrier for 20 tubes approx. 5 ml, flat and round bottom, max. Ø 12.2 x 60 -... | |
| Ø 12 x 75 mm | |
| Rectangular carrier for 20 tubes approx. 7 ml, flat and round bottom, max. Ø 12.3 x 80 -... | |
| Ø 12 x 100 mm | |
| Ø 12 x 100 mm, graduated | |
| Rectangular carrier for 20 tubes 5 - 6 ml, max. Ø 12.8 x 70 - 90 mm, e.g. no. 15060,... | |
| Rectangular carrier for 12 tubes 10 - 12 ml, flat and round bottom, max. Ø 16.8/17.5 x 60... | |
| Rectangular carrier for 12 tubes 10 - 15 ml, flat and round bottom, max. Ø 17 x 90 - 105... | |
| Ø 16 x 100 mm | |
| Ø 16 x 100 mm, graduated | |
| Ø 17 x 100 mm | |
| Rectangular carrier for 4 culture tubes 15 ml no. 15115 | |
| Rectangular carrier for 10 tubes approx. 15 ml, respectively tubes with stoppers, max. Ø... | |
| Rectangular carrier for 4 tubes 30 ml, skirt or flat bottom, max. Ø 25/31 x 65 - 95 mm,... | |
| Rectangular carrier for 5 tubes approx. 25 ml, max. Ø 24 x 85 - 105 mm, e.g. no. 15025,... | |
| Ø 24 x 100 mm | |
| Ø 24 x 100 mm, graduated | |
| Rectangular carrier for 5 tubes 27 - 30 ml, max. Ø 25.4/27.5 x 80 - 110 mm, e.g. no.... | |
| Rectangular carrier for 2 tubes approx. 50 ml, max. Ø 35/38 x 85 - 110 mm, e.g. no.... | |
| Ø 34 x 100 ml, graduated | |
| Ø 34 x 100 mm | |
| Ø 34 x 100 mm, graduated | |
| Rectangular carrier for 2 tubes 40 - 50 ml, max. Ø 29/35 x 80 - 110 mm, e.g. no. 13055,... | |
| Rectangular carrier for 2 culture tubes 50 ml no. 15151 | |
| U' Well Microtitration plate (pack of 100) | |
| F' Well Microtitration plate (pack of 50) | |
| V' Well Microtitration plate (pack of 100) | |
| Lid for Microtitre plates (pack of 50) | |
| Rectangular carrier for 2 culture tubes 50 ml with skirt or flat bottom, max. Ø 29.5/38 x... | |
| Rectangular carrier for 1 tube 78 - 85 ml, max. Ø 38/40 x 85 - 112 mm, e.g. no. 13085,... | |
| Rectangular carrier for 1 tube approx. 100 ml, max. | |
| Ø 44 x 100 mm | |
| Ø 45 x 100 mm, graduated | |
| Ø 44 x 100 mm, graduated up to 80 ml | |
| Rectangular carrier for 20 tubes approx. 5 ml, flat and round bottom, decantable, max. Ø... | |
| Rectangular carrier for 20 tubes approx. 7 ml, flat and round bottom, decantable, max. Ø... | |
| Rectangular carrier for 12 glass tubes 10 - 15 ml, decantable, max. Ø 17 x 90 - 105 mm,... | |
| Rectangular carrier for 1 bottle 125 mlwith flat bottom and screw cap, max. Ø 51 x 90 -... | |
| Rectangular carrier for 1 bottle with flat bottom and screw cap 200 ml, max. Ø 57 x 90 -... | |
| Ø 56 x 112mm, screw cap | |
| Rectangular polysulfone sealing cap, clear, incl. 2 clips no. 17118 | |
| Rectangular carrier for 6 culture tubes 15 ml e.g. no. 15115 | |
| Round bucket, volume approx. 530 qcm, suitable for round carriers Ø 85 mm no. 173...,... | |
| Round polysulfone sealing cap, clear | |
| Round carrier for 9 culture tubes 15 ml, max. cap Ø 23 mm, e.g. no. 15115, Falcon,... | |
| Round carrier for 4 culture tubes 50 ml, e.g. no. 15151, Nunc, Corning, Falcon and... | |
| Round carrier for 1 bottle with pointed bottom angle 60°, max. Ø 61,5 x 120 - 140 mm,... | |
| no. 376813, graduated up to 175 ml, Ø 60 x 137,2, pointed bottom 60° | |
| Round carrier incl. rubber cushion no. 16051, for 1 tube 100 ml, max. Ø 45/50 x 85 - 110... | |
| Round carrier for 3 tubes 50 ml with skirt or flat bottom, max. Ø 29.4/36 x 85 - 115 mm,... | |
| Round carrier for 5 culture tubes 15 ml, e.g. no. 15115 | |
| Round carrier for 3 culture tubes 50 ml, e.g. no. 15151 | |
| Round carrier for 1 bottle with flat bottom and screw cap 250 ml, max. Ø 61.5 x 90 - 125... | |
| Round carrier for 10 culture tubes 15 ml, max. cap Ø 22 mm, Falcon, Greiner, tubes | |
| Round carrier for 4 culture tubes 50 ml with skirt or flat bottom, max. Ø 29.4/36 x 90 -... | |
| Round carrier for 1 bottle 150 or 200 ml with pointed bottom angle 88°, max. Ø 60 x 120... | |
| Ø 85 x 135 mm, incl. screw cap | |
| Ø 85 x 170 mm, incl. screw cap, | |
| Ø 61.4 x 125 mm, sealable with cap no. 17256 | |
| Round stainless steel sealing cap | |
| incl. screw cap, Ø 61.4 x 125 mm | |
| incl. screw cap, Ø 61.4 x 122 mm | |
| Round carrier for 1 round bottom tube 430 ml max. Ø 75 x 140 mm, e.g. no. 15430, incl... | |
| Round carrier for 24 reaction vials 0.5/0.75 ml, max. | |
| Round carrier for 12 tubes 4 - 7 ml, flat bottom, max. | |
| Round carrier for 25 tubes 5 ml, max. Ø 12.5/13.5 x 65 - 80 mm, e.g. no. 15060, RIA -... | |
| Round carrier for 20 reaction vials 1.5/2.2 ml, max. Ø 11 mm, e.g. no. 15008, 15040 | |
| Round carrier for 16 tubes 7 ml, max. Ø 12.5 x 85 - 115 mm, e.g. no. 15007, 15027 | |
| Round carrier for 12 tubes 10 - 12 ml, max. Ø 16.2/19 x 65 - 90 mm, e.g. no. 15000,... | |
| Round carrier for 16 tubes 5 - 6 ml, max.Ø 13.5/17.5 x 70 - 90 mm, e.g. no. 15060,... | |
| Round carrier for 12 tubes 10 - 15 ml, max. Ø 17.2/19.5 x 90 - 115 mm, e.g. no. 15015,... | |
| Round carrier for 5 tubes 30 ml, flat bottom, max. Ø 25/31 x 65 - 95 mm, e.g.... | |
| Round carrier for 5 tubes 25 - 30 ml, max. Ø 25.4/29 x 85 - 115 mm, e.g. no. 15025,... | |
| Round carrier for 3 tubes 50 ml, max. Ø 35/38 x 90 - 110 mm, e.g. no. 15049, 15050,... | |
| Round carrier for 4 tubes with screw cap 40 - 50 ml, max. Ø 29/34 x 85 - 115 mm, e.g. no.... | |
| Round carrier for 1 tube 78 - 85 ml, max. Ø 38/40 x 85 - 115 mm, e.g. no. 13085, 15074,... | |
| Round carrier for 1 bottle with flat bottom and screw cap 125 ml, max. Ø 51 x 90 - 115... | |
| Ø 51 x 99 mm, screw cap | |
| Round carrier for 1 bottle with flat bottom and screw cap 200 ml, max. Ø 57 x 90 - 115... | |
| Round carrier incl. rubber cushion no. 16250 for 1 tube 175 or 250 ml, max. Ø 57.5 x 90 -... | |
| Ø 56 x 112 mm | |
| Ø 56 x 113 mm, graduated | |
| Ø 56 x 134 mm | |
| Ø 56 x 135 mm, graduated | |
| | |
| Buckets for hexagonal adapters no. 18309-18312 for culture tubes 15 & 50ml | |
| Hexagon Carrier for 4 Culture tubes 50ml | |
| Hexagon Carrier for 10 Culture tubes 15ml | |
| Hexagon carrier for 4 culture tubes 50 ml with skirt or flat bottom, max. Ø 29.4/36 x 90... | |
| Swing-out rotor 28 x 15 ml complete, no. 11133, incl. 4 buckets no. 13104, 4 carriers no.... | |
| 1 set = 2 pcs | |
| Round carrier for 3 culture tubes 15 ml no. 15115 | |
| Round aluminium sealing cap | |
| Round polycarbonate sealing cap, clear | |
| Round carrier for 12 tubes approx. 5 ml, round and flat bottom, max. Ø 12.5 x 55 to 75... | |
| Round carrier for 12 tubes 7 ml, max. Ø 12.3 x 90 - 105 mm, e.g. no. 15007, 15027 | |
| Round carrier for 12 reaction vials 1.5/2.2 ml, max. Ø 11 mm, e.g. no. 15008, 15040 | |
| Round carrier for 6 tubes with cap 10 - 12 ml, max. | |
| Round carrier for 7 tubes 10 - 15 ml, round and flat bottom, max. Ø 16.8 x 90 - 105 mm,... | |
| Round carrier for 4 tubes with cap 9 - 15 ml, round and flat bottom, max. Ø 17.5/20 x 90... | |
| Round carrier for 2 tubes 25 ml, max. Ø 24.5 x 90 - 105 mm, e.g. no. 15025, 15026,... | |
| Round carrier for 7 tubes 5 - 7 ml, max. Ø 13.5/17.5 x 65 - 90 mm, e.g. Vacutainer | |
| Round carrier for 2 tubes 25 - 30 ml, max. Ø 25.4/27.5 x 85 - 110 mm, e.g. no. 15025,... | |
| Round carrier for 1 tube 30 ml, flat bottom or skirt, max. | |
| Round carrier for 1 tube approx. 50 ml with skirt or flat bottom, max. Ø 29.4/36 x 90 -... | |
| Round carrier for 1 culture tube 50 ml no. 15151 | |
| Round carrier for 1 tube 50 ml, max. Ø 35/38 x 85 - 110 mm, e.g. no. 15049, 15050,... | |
| Round carrier for 1 tube 40 - 50 ml, max. Ø 29/35 x 85 - 115 mm, e.g. no. 13055, 15051,... | |
| Round carrier for 1 tube 78 - 85 ml, max. Ø 38/40 x 85 - 112 mm, e.g. no. 13085, 15074,... | |
| Round carrier for 1 tube approx. 100 ml, max. Ø 45.5 x 85 - 105 mm, e.g. no. 15100,... | |
| Swing-out rotor for 4 buckets no. 13104, 13130 | |
| Bucket, suitable for 3 culture tubes 15 ml no. 15115, sealable with cap no. 17109, 17111 | |
| Angle rotor 12 x 15 ml culture | |
| Table for centrifuge made of sheet-steel, varnished, with 2 doors and space for... | |
| Swing-out rotor 12 x 50 ml culture tubes complete, no. 11180, incl. 2 sets buckets no.... | |
| Swing-out rotor 48 x 15 ml complete, no. 11180, | |
| Swing-out cytology rotor complete, incl. 2 sets buckets no. 13224, 4 inserts no. 15223 | |
| Swing-out rotor 24 x 1.5/2.0 ml, incl. 3 sets buckets no. 13124, for e.g. reaction vials... | |
| Professional Flight Case for safe and easy transportation | |
| Angle rotor for 6 x 50 ml culture tubes, g-lock version of 12310 | |