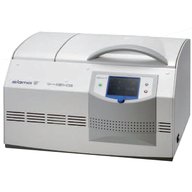 Sigma 4-16KS
10385
Universal table top refrigerated centrifuge; speed range up to 15,000 rpm
For the non-refrigerated version please see the Sigma 4-16S and for the heated version please see the Sigma 4-16KHS
Details
This unit has replaced the Sigma 4-16K and 4K15.
Control unit Spincontrol S

Various angle and swing-out rotors available

Lid can easily be opened due pneumatic swing support

Maximum capacity of 4 x 650 ml down to microtubes with different adapters in the same bucket

Maintenance-free induction drive motor A Microcontroller controls speed or gravitational field, time

2 Motorized lid locks

Suitable for low speeds e.g. for cell sedimentation, accuracy +/- 1 rpm

Magnetic rotor identification prevents the rotor from overspeeding

Stainless steel bowl

Imbalance switch

No need to open the casing for emergency lid lock release

Window in the centrifuge lid for external speed control

Backlighted keys for start, stop, lid open

Possibility of precooling the rotors during standstill Refrigerant CFC-free (R404a)

Guaranteed 4°C at max. speed for all rotors
Features
Refrigeration
Typical capacities
100 x Microlitre 0.2-2ml
120 x Blood tube 4-7mm (13mm)
72 x Blood tube 7-10ml (16mm)
36 x Conical 15ml
12 x Conical 50ml
30 x Universal 25ml
Availability
Available as New
Please call our sales office or request a quote online for pricing/discount information.
Accessories for Sigma 4-16KS
| | |
| --- | --- |
| Swing out rotor for microtitre plates complete, incl 2 carriers no 13218, incl plate... | |
| | |
| Clip for sealing caps | |
| | |
| | |
| Bucket for Microtitre filter and deep well plate incl plate holder | |
| Round Bucket | |
| Round carrier for 20 tubes 4 - 7 ml, flat and round bottom, e.g. Monovette, Primavette,... | |
| Round carrier for 36 tubes 5 ml, max. Ø 12.5 x 60 - 80 mm, e.g. no. 15060, RIA -,... | |
| Ø 12 x 75 mm | |
| Round carrier for 26 e.g. reaction vials 1.5/2.2 ml, max. | |
| 100 pcs. per pack | |
| 100 pcs. per pack | |
| Microtube 1.5ml yellow (pack of 5000) | |
| Microtube 1.5ml blue (pack of 5000) | |
| Microtube 1.5ml green (pack of 5000) | |
| Microtube 1.5ml pink (pack of 5000) | |
| Microtube 1.5ml Twist Lock (pack of 5000) | |
| Microtube 2.0ml Polypropylene (pack of 500) | |
| Microtube 1.5m threaded and not skirted (pack of 500) | |
| Cap with integral O ring for above (pack of 500) | |
| Round carrier for 32 tubes approx. 7 ml, max. Ø 12.5 x 85 - 115 mm, e.g. no. 15007,... | |
| Ø 12 x 100 mm | |
| Ø 12 x 100 mm, graduated | |
| Round carrier for 20 tubes 10 - 12 ml, max. Ø 16.2/18 x 65 - 90 mm, e.g. no. 15000,... | |
| Includes screw cap. Ø 16.1 x 81.1 mm | |
| Incl. screw cap, Ø 16.1 x 81.1 mm | |
| Incl. screw cap, Ø 16.1 x 81.1 mm | |
| Round carrier for 22 tubes 5 - 6 ml, max. Ø 13.5/17.5 x 70 - 90 mm, e.g. no. 15060... | |
| Round carrier for 19 tubes 9 - 15 ml, max. Ø 17.2/19.5 x 85 - 115 mm, e.g. no. 15015,... | |
| Special glass tube 13.5ml, Ø 17 x 110 mm,max. allowable speed 7000 rpm | |
| Ø 16 x 100 mm | |
| Ø 16 x 100 mm, graduated | |
| Ø 17 x 100 mm | |
| Ø 17 x 100 mm | |
| Round carrier for 12 culture tubes 15 ml no. 15115, Nunc, Corning, Falcon and Greiner... | |
| Culture tube Nunc, 15 ml, pointed bottom, polypropylene, incl. screw cap Ø 23 mm | |
| 15ml Graduated centrifuge with screw cap (pack of 500) | |
| Round carrier for 15 culture tubes 15 ml e.g. Falcon and Greiner tubes with caps Ø max.... | |
| Round carrier for 7 tubes 30 ml, flat bottom, max. Ø 25/31 x 65 - 95 mm, e.g.... | |
| Round carrier for 8 tubes 25 - 30 ml, max. Ø 25.4/30 x 90 - 115 mm, e.g. no. 15025,... | |
| Incl. screw cap, | |
| Incl. screw cap, | |
| Incl. screw cap, | |
| Special glass tube 32ml, Ø 24 x 105 mm, max. allowable speed 7000 rpm | |
| Ø 24 x 100 mm | |
| Ø 24 x 100 mm, graduated | |
| Round carrier for 4 tubes 50 ml, max. Ø 35/38 x 90 - 115 mm, e.g. 15049, 15056,... | |
| Ø 34 x 100 ml, graduated | |
| Ø 34 x 100 mm | |
| Ø 34 x 100 mm, graduated | |
| Round carrier for 7 tubes 40 - 50 ml with screw cap, max. Ø 29/32 x 90 - 115 mm, e.g.... | |
| incl. screw cap, Ø 28.5 x 107 mm | |
| incl. screw cap, Ø 28.8 x 107 mm | |
| Ø 28.5 x 101.5 mm, sealable with cap no. 17054 | |
| Stainless steel sealing cap | |
| Round carrier for 5 culture tubes 50 ml, e.g. no. 15151, Nunc, Corning, Falcon and... | |
| Culture tube Nunc, 50 ml, pointed bottom, polypropylene, incl. screw cap | |
| 50ml Conical Sterile Polypropylene Centrifuge Tube With Screw Cap (Pack of 20) | |
| Round carrier for 5 culture tubes 50 ml with skirt or flat bottom, max. Ø 29/36 x 90 -... | |
| Round carrier for 7 culture tubes 50 ml, e.g. Nunc, Corning, Falcon and Greiner, max. Ø... | |
| Round carrier for 3 tubes with screw cap 78 - 85 ml, max. Ø 38/40 x 90 - 110 mm, e.g. no.... | |
| incl. screw cap, Ø 38 x 112 mm | |
| incl. screw cap, Ø 38 x 112 mm | |
| Ø 38 x 103 mm, sealable with cap no. 17185 | |
| Round stainless steel sealing cap | |
| Round carrier incl. rubber cushion no. 16051, for 2 tubes approx. 100 ml with, max. Ø... | |
| Ø 44 x 100 mm | |
| Ø 45 x 100 mm, graduated | |
| Ø 44 x 100 mm, graduated up to 80 ml | |
| Round carrier for 1 bottle with flat bottom and screw cap 145 ml, max. Ø 51 x 90 - 115... | |
| Ø 51 x 99 mm, screw cap | |
| Round carrier for 1 bottle with pointed bottom approx. 200ml, angle 60°, max. Ø61,5 x 140... | |
| Polypropylene bottle 200 ml, Ø 61.5 x 139 mm, pointed bottom, graduated up to 175 ml... | |
| no. 376813, graduated up to 175 ml, Ø 60 x 137,2, pointed bottom 60° | |
| Round carrier for 1 bottle 150 or 200 ml with pointed bottom angle 88°, max. Ø 60 x 120... | |
| Round carrier incl. rubber cushion no. 16250 for 1 tube 175 - 250 ml, max. Ø 57.5 x 90 - ... | |
| Ø 56 x 112 mm | |
| Ø 56 x 113 mm, graduated | |
| Ø 56 x 134 mm | |
| Ø 56 x 135 mm, graduated | |
| Round carrier for 1 bottle with flat bottom and screw cap 200 ml approx., max. Ø 57 x 90... | |
| Ø 56 x 112mm, screw cap | |
| Round carrier for 1 bottle with flat bottom and screw cap 250 ml, max. Ø 61.5 x 90 - 125... | |
| Ø 61.4 x 125 mm, sealable with cap no. 17256 | |
| Round stainless steel sealing cap | |
| incl. screw cap, Ø 61.4 x 125 mm | |
| incl. screw cap, Ø 61.4 x 122 mm | |
| Adapter for 1 bottle 500 to 750 ml, Ø 83 x 130 - 173 mm, e.g. no. 15500, 15501, 15750,... | |
| Ø 85 x 170 mm, incl. screw cap, | |
| Capillary tubes, heparinized, Ø 1.5 x 75 mm, 50 µl, 200 pcs. per pack | |
| Round polysulfone sealing cap for 13650 bucket | |
| U' Well Microtitration plate (pack of 100) | |
| F' Well Microtitration plate (pack of 50) | |
| V' Well Microtitration plate (pack of 100) | |
| Lid for Microtitre plates (pack of 50) | |
| Swing-out rotor 32 x 1,5/2,2 ml, incl. 8 buckets no. 13124, approx. 16000 x g, for e.g.... | |
| Swing-out rotor for 4 buckets no. 13215, 13220, 13221, 13231, 13233, 13234, 13235, 13236,... | |
| Multiple carrier 50 x tubes approx. 5 ml, max. Ø 12.5 x 70 - 90 mm, e.g. no. 15060, RIA... | |
| Multiple carrier 4 x 100 ml for tubes Ø 45 x 100 mm no. 15100, 15102, 15103, 15106, incl.... | |
| Multiple carrier for 7 culture tubes 50 ml no. 15151 | |
| Multiple carrier for 12 culture tubes 15 ml no. 15115 | |
| 1 set = 2 pcs | |
| Round carrier for 9 culture tubes 15 ml, max. cap Ø 23 mm, e.g. no. 15115, Falcon,... | |
| Round carrier for 4 culture tubes 50 ml, e.g. no. 15151, Nunc, Corning, Falcon and... | |
| Round carrier for 1 bottle with pointed bottom angle 60°, max. Ø 61,5 x 120 - 140 mm,... | |
| Round carrier incl. rubber cushion no. 16051, for 1 tube 100 ml, max. Ø 45/50 x 85 - 110... | |
| Round carrier for 3 tubes 50 ml with skirt or flat bottom, max. Ø 29.4/36 x 85 - 115 mm,... | |
| Round carrier for 5 culture tubes 15 ml, e.g. no. 15115 | |
| Round carrier for 3 culture tubes 50 ml, e.g. no. 15151 | |
| Round carrier for 1 bottle with flat bottom and screw cap 250 ml, max. Ø 61.5 x 90 - 125... | |
| Round carrier for 24 reaction vials 0.5/0.75 ml, max. | |
| | |
| Microtube 0.4ml Beckman (pack of 1000) | |
| Microtube 0.5ml RNAse free (pack of 1000) | |
| Microtube 0.5ml RNAse free (pack of 1000) | |
| Round carrier for 12 tubes 4 - 7 ml, flat bottom, max. | |
| Round carrier for 25 tubes 5 ml, max. Ø 12.5/13.5 x 65 - 80 mm, e.g. no. 15060, RIA -... | |
| Round carrier for 20 reaction vials 1.5/2.2 ml, max. Ø 11 mm, e.g. no. 15008, 15040 | |
| Round carrier for 16 tubes 7 ml, max. Ø 12.5 x 85 - 115 mm, e.g. no. 15007, 15027 | |
| Round carrier for 12 tubes 10 - 12 ml, max. Ø 16.2/19 x 65 - 90 mm, e.g. no. 15000,... | |
| Round carrier for 16 tubes 5 - 6 ml, max.Ø 13.5/17.5 x 70 - 90 mm, e.g. no. 15060,... | |
| Round carrier for 12 tubes 10 - 15 ml, max. Ø 17.2/19.5 x 90 - 115 mm, e.g. no. 15015,... | |
| Round carrier for 5 tubes 30 ml, flat bottom, max. Ø 25/31 x 65 - 95 mm, e.g.... | |
| 30ml Universal tubes, no label - polystyrene (pack of 400) | |
| 30ml Universal tubes, no label - Polypropylene (pack of 400) | |
| 30ml Universal tubes, printed label - Polypropylene (pack of 400) | |
| 30ml Universal tubes, plain label - Polystyrene (pack of 400) | |
| 30ml Universal tubes, with spoon, no label - Polypropylene (pack 400) | |
| 30ml Universal tubes, with boric acid, no label - Polypropylene (pack of 400) | |
| 30 ml Universal, labelled - Polystyrene (pack of 400) | |
| Round carrier for 5 tubes 25 - 30 ml, max. Ø 25.4/29 x 85 - 115 mm, e.g. no. 15025,... | |
| Round carrier for 3 tubes 50 ml, max. Ø 35/38 x 90 - 110 mm, e.g. no. 15049, 15050,... | |
| Round carrier for 4 tubes with screw cap 40 - 50 ml, max. Ø 29/34 x 85 - 115 mm, e.g. no.... | |
| Round carrier for 1 tube 78 - 85 ml, max. Ø 38/40 x 85 - 115 mm, e.g. no. 13085, 15074,... | |
| Round carrier for 1 bottle with flat bottom and screw cap 125 ml, max. Ø 51 x 90 - 115... | |
| Round carrier for 1 bottle with flat bottom and screw cap 200 ml, max. Ø 57 x 90 - 115... | |
| Round aluminium sealing cap (pair) | |
| Round polysulfone sealing cap, clear | |
| Round carrier for 10 culture tubes 15 ml, max. cap Ø 22 mm, Falcon, Greiner, tubes | |
| Round carrier for 4 culture tubes 50 ml with skirt or flat bottom, max. Ø 29.4/36 x 90 -... | |
| Round carrier for 1 bottle 150 or 200 ml with pointed bottom angle 88°, max. Ø 60 x 120... | |
| Round carrier incl. rubber cushion no. 16250 for 1 tube 175 or 250 ml, max. Ø 57.5 x 90 -... | |
| Ø 85 x 135 mm, incl. screw cap | |
| Round carrier for 1 round bottom tube 430 ml max. Ø 75 x 140 mm, e.g. no. 15430, incl... | |
| Sold Individually | |
| Rectangular carrier for 20 reaction vials 1.5/2.2 ml, max. Ø 11 mm, e.g. no. 15008,... | |
| Rectangular carrier for 12 tubes 6 - 7 ml, max. Ø 13.5/18 x 65 - 90 mm, e.g... | |
| Rectangular carrier for 20 tubes approx. 5 ml, flat and round bottom, max. Ø 12.2 x 60 -... | |
| Rectangular carrier for 20 tubes approx. 7 ml, flat and round bottom, max. Ø 12.3 x 80 -... | |
| Rectangular carrier for 20 tubes 5 - 6 ml, max. Ø 12.8 x 70 - 90 mm, e.g. no. 15060,... | |
| Rectangular carrier for 12 tubes 10 - 12 ml, flat and round bottom, max. Ø 16.8/17.5 x 60... | |
| Rectangular carrier for 12 tubes 10 - 15 ml, flat and round bottom, max. Ø 17 x 90 - 105... | |
| Rectangular carrier for 4 culture tubes 15 ml no. 15115 | |
| Rectangular carrier for 10 tubes approx. 15 ml, respectively tubes with stoppers, max. Ø... | |
| Rectangular carrier for 4 tubes 30 ml, skirt or flat bottom, max. Ø 25/31 x 65 - 95 mm,... | |
| Rectangular carrier for 5 tubes approx. 25 ml, max. Ø 24 x 85 - 105 mm, e.g. no. 15025,... | |
| Rectangular carrier for 5 tubes 27 - 30 ml, max. Ø 25.4/27.5 x 80 - 110 mm, e.g. no.... | |
| Rectangular carrier for 2 tubes approx. 50 ml, max. Ø 35/38 x 85 - 110 mm, e.g. no.... | |
| Rectangular carrier for 2 tubes 40 - 50 ml, max. Ø 29/35 x 80 - 110 mm, e.g. no. 13055,... | |
| Rectangular carrier for 2 culture tubes 50 ml no. 15151 | |
| Rectangular carrier for 2 culture tubes 50 ml with skirt or flat bottom, max. Ø 29.5/38 x... | |
| Rectangular carrier for 1 tube 78 - 85 ml, max. Ø 38/40 x 85 - 112 mm, e.g. no. 13085,... | |
| Rectangular carrier for 1 tube approx. 100 ml, max. | |
| Rectangular carrier for 20 tubes approx. 5 ml, flat and round bottom, decantable, max. Ø... | |
| Rectangular carrier for 20 tubes approx. 7 ml, flat and round bottom, decantable, max. Ø... | |
| Rectangular carrier for 12 glass tubes 10 - 15 ml, decantable, max. Ø 17 x 90 - 105 mm,... | |
| Rectangular carrier for 1 bottle 125 mlwith flat bottom and screw cap, max. Ø 51 x 90 -... | |
| Rectangular carrier for 1 bottle with flat bottom and screw cap 200 ml, max. Ø 57 x 90 -... | |
| Rectangular polysulfone sealing cap, clear, incl. 2 clips no. 17118 | |
| Sold as a set of 2 | |
| Sold Individually | |
| Plate holder for bucket no. 13221 | |
| Double rectangular bucket, suitable for the system of rectangular carriers no. 18...,... | |
| Rectangular Polysulfone Sealing Cap | |
| Round bucket, incl. O-ring 86 x 3 mm no. 482840, for round carriers Ø 85 mm no. 17345 -... | |
| Swing Out Rotor 48 x 15ml complete, no 11150 incl 2 sets rectangular buckets no 13215, 2... | |
| Swing-out rotor for 6 buckets no. 13115, 13127, 13201 | |
| Rectangular bucket, suitable for the system of rectangular carriers no. 18..., max. tube... | |
| Rectangular carrier for 6 culture tubes 15 ml e.g. no. 15115 | |
| Rectangular carrier for 1 tube 175 - 250 ml incl. rubber cushion no. 16051, max. Ø 57 x... | |
| Rectangular bucket incl. polysulfone cap no. 17112, suitable for the system of... | |
| Angle rotor 20 x 10 ml, for tubes no. 13026, 15000, 15010, 15039, incl. hermetic... | |
| 12 x 15ml Culture tube rotor | |
| Angle rotor 12 x 30 ml, for tubes no. 15029, 15030, 15032, incl. hermetic aluminium lid | |
| Adapter for 10ml tubes (Set of 2) | |
| 24 x 15ml Culture tube rotor | |
| Swing-out rotor for 4 buckets no. 13621, 13625, 13635, 13650 | |
| This part is not compatible with the Sigma 4-5L | |
| This part is not compatible with the Sigma 4-5L | |
| This part is not compatible with the Sigma 4-5L | |
| Hexagon carrier for 24 culture tubes 15 ml, e.g. no. 15115 | |
| Hexagon carrier for 10 culture tubes 50 ml, e.g. no. 15151 (Set of 2) | |
| This part is not compatible with the Sigma 4-5L | |
| Round carrier for 1 Corning bottle 500 ml, no. 432123, angle 75°, Ø 96 x 150 mm, pointed... | |
| Adapter for 1 bottle 500 ml, max. Ø 69,5 x 165 mm, e.g. no. 13507 with 17256, 15508,... | |
| Ø 69.5 x 152 mm, sealable with cap no. 17256 | |
| Ø 69 x 165 mm, incl. screw cap | |
| Flat bottom, 800 ml, Ø 100 x 135 mm, sealable with cap 17123 | |
| Polypropylene cap for tubes no. 13656, 13823 | |
| 6 x 250ml rotor | |
| Adapter for 9 reaction vials 1.5/2.0 ml, max. Ø 11 mm, | |
| Adapter for 6 round bottom tubes approx. 10 ml, | |
| Adapter for 4 culture tubes 15 ml, cap max. Ø 23 mm, e.g. no. 15115 Nunc, Falcon,... | |
| Adapter for 2 round bottom tubes approx. 30 ml max. | |
| Adapter for 1 round bottom tube approx. 42 ml, | |
| Adapter for 1 culture tube 50 ml e.g. no. 15151 | |
| Adapter for 1 round bottom tube approx. 85 ml, | |
| Table for centrifuge made of sheet-steel, varnished, with 2 doors and space for... | |
| Angle rotor 48 x 1.5/2.0 ml, Biosafe with certificate, for reaction vials no. e.g. 15008,... | |
| Adapter for reaction vials 0.25/0.4 ml no. 15014 (Set of 2) | |
| | |
| Adapter for 0.5-0.75ml PCR tubes (Set of 2) | |
| Adapter for PCR-tube 0.2 ml, e.g no. 15042 (Set of 2) | |
| 100 pcs. per pack | |